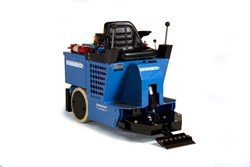 Everett, WA (PRWEB) October 31, 2013
West coast-based Innovatech Products, one of the country's premier manufacturers and suppliers of the ride-on floor scraper, the Terminator floor scraper line, and other high-end maintenance machines for residential, commercial, and industrial purposes, recently announced the newest addition to its product line–the Terminator T-2100XME Battery Powered Ride-On Floor Scraper, the newest member of the Terminator family of elite ride-on flooring removal machines. This new addition, says company management, is in keeping with the company's overall commitment to providing their customers with the most high quality, cutting-edge products on the market.
"We are proud to announce this newest product to our line of equipment," says Innovatech Products Sales Manager, Tony Do. "The Terminator T2100XME was introduced this year at the World of Concrete 2013. It has all the power and capability needed to remove VCT, vinyl, carpet, and many other flooring materials in a compact and easy to maneuver design. The 27-inch-wide T-2100XME fits through any standard doorway and the hydraulically adjusted blade provides the versatility to remove all types of flooring material. The newly incorporated AGM Maintenance Free Battery Pack offers zero percent emissions with its battery power limit controller, and large tires provide the power and traction needed to blow through the toughest removal jobs. Also featuring a 13" built-in swivel head and dual joystick operation, the T-2100XME is extremely easy to operate and maneuver. If your company requires professionally built industrial strength equipment, the Terminator T-2100XME battery powered should be your next floor removal machine."
The benefits of the Terminator T-2100XME, cites company management, include extremely high removal rates, 115 amp hour AGM maintenance free batteries, built-in quick change swivel head design, an easiy fit through any standard doorway or onto elevators, removable battery packs for unlimited run time, zero exhaust emissions, ergonomic industrial controls, the ability to speed through your toughest projects with 1475 ft lbs of total wheel torque, compatibility with all Innovatech blades, and integrated lifting points.
"We are proud to introduce this revolutionary piece of equipment to our product line," says Mr. Do. "Innovatech looks forward to continuing to provide our customers with the best equipment on the market."
Proudly manufacturing and providing the equipment needs for contractors worldwide since 1995, Innovatech Products is a world renowned supplier of high quality floor scrapers, concrete floor grinders, concrete floor polishing, concrete grinding polishing tools, and other maintenance machines for the professional cleaning, construction, and maintenance industries.
To learn more about the Terminator T-2100XME and the services of Innovatech Products, CLICK HERE