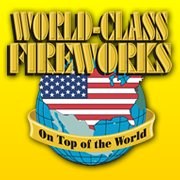 We greatly value our partnership with the Folds of Honor Foundation and believe in their mission.
Pittsburg, KS (PRWEB) November 01, 2013
Jake's Fireworks announced today they would renew their partnership with the Folds of Honor Foundation (FOHF) for 2014. In a public ceremony today at the Folds of Honor Foundation's headquarters in Tulsa, Oklahoma, Josh Stovall, of Jake's Fireworks, presented Major Dan Rooney, founder of the Folds of Honor Foundation, with a check for their 2013 sales efforts. For the 2013 Fourth of July season, Jake's Fireworks created a 200-gram, patriotic firework called the "Folds of Honor Firework."
The limited edition firework was sold throughout all Jake's locations across the US. The Folds of Honor Foundation provide educational scholarships to the children and spouses of military service men, and women killed or disabled while serving our great nation. As of January 2012, more than one million dependents have been affected by the wars in Iraq and Afghanistan. Of these, eighty-five percent does not qualify for federal scholarship assistance.
"We greatly value our partnership with the Folds of Honor Foundation and believe in their mission," Josh Stovall mentions. "We're thrilled to have Jake's Fireworks renew their commitment as a partner," said Major Dan Rooney. "By purchasing the Folds of Honor firework this past Fourth of July, Americans could simultaneously celebrate our country's Independence Day, while assisting the families of our military men and women who make our freedom possible," said Major Rooney.
Also in today's ceremony, the first recipient of a Folds of Honor scholarship from the proceeds from the Jake's Fireworks partnership was an award to Dakota Peterson, son of Anthony Del Mar Peterson, Company B, and first Battalion of 279th Infantry who was killed in Afghanistan on August 3, 2011.
Details on the Jake's Firework/Folds of Honor Foundation program for 2014 will be released in the coming months.
About Folds of Honor
The Folds of Honor Foundation is rallying a nation to ensure no family is left behind in the fight to preserve American freedom. Through scholarships and other assistance, they give back to the spouses and children of soldiers killed or disabled in service to our country. FOH provides healing, hope and an opportunity for dreams to be realized...with the support of people like you. FOH feels this is the duty as citizens of the greatest country in the world.
About Jake's Fireworks
Jake's Fireworks recently opened its new world headquarters in Pittsburg, Kansas, where Grandma Helen Marietta started the company 75 years ago with a fireworks stand on the side of her country store. The new 500,000 square foot, state-of-the-art facility allows Jake's to carry more inventories and have a central distribution point to serve its many outlets across the Midwest. One of Jake's proprietary fireworks is Excalibur, the #1 selling artillery shell firework of all time.
Website: http://www.jakesfireworks.com
For Interviews Contact: Karl Hirsch, karl(at)noblemouse(dot)com, 818-244-3770 x 104 (24/7)