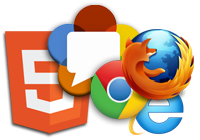 "The work that Hookflash is doing on the Object Real-time Communications API (ORTC) positions them at the forefront of WebRTC," comments Microsoft executive Albert Kooiman.
Vancouver BC, Canada (PRWEB) November 01, 2013
Hookflash joins over 20 technology companies and thought leaders from around the globe this Sunday, November 3, 2013, to review "ORTC" the new Object RTC API (Object Real-Time Communications Application Programming Interface). Hookflash Chief Architect Robin Raymond will provide an introduction and overview of the new ORTC API, as well as demos and sample application reviews. This event will be streamed live: http://www.ustream.tv/channel/ortc-live.
"The work that Hookflash is doing on the Object Real-time Communications API (ORTC) positions them at the forefront of WebRTC," comments Microsoft executive Albert Kooiman, Senior Product Marketing Manager, Lync. "ORTC is a very appealing approach for developers looking to produce interoperable WebRTC applications quickly, by presenting a simpler and more familiar Javascript Object model that leverages the skills of mainstream web developers, instead of the more complex Offer/Answer approach. To see open source code that enables this is real progress. We believe that ORTC (and the establishment of the W3C ORCA Community Group to evolve it) is a major step forward and we support Hookflash in their efforts."
The W3C Object RTC (ORCA) Community Group http://www.w3.org/community/orca/ was formed in July 2013 to develop an alternative JavaScript API for real-time communications by a group of people looking for alternatives to SDP Offer/Answer in WebRTC. The Community Group published its first draft specification on October 11, 2013.
Hookflash Co-founder, Erik Lagerway explains "Microsoft has expressed concerns regarding the current WebRTC specification. If the current WebRTC specification isn't included in Internet Explorer, it creates a massive gap in the Enterprise and global marketplace. Hookflash is providing both ORTC, WebRTC and mobile compatibility in Hookflash toolkits to deliver Voice, Video and Messaging without plugins to Internet Explorer (assuming integration of ORTC), Google Chrome, Mozilla Firefox, iOS and android. This makes Hookflash the first company to fill that gap for Enterprise, developers and consumers. But it doesn't end there," says Lagerway, "The optimal solution for web developers and customers will be to have all the browser vendors integrate support for ORTC directly. Since ORTC supports both Object and SDP Offer/Answer models, everyone wins."
Hookflash will be making another announcement on Sunday during the ORTC Walkthrough http://blog.webrtc.is/2013/10/28/ortc-walk-through-ietf-88/, regarding the availability of source code for ORTC/WebRTC implementations. This event will be streamed live: http://www.ustream.tv/channel/ortc-live.
Hookflash enables real-time social, mobile, and web communications with "Open Peer" for integration of voice, video, messaging with federated identity into world leading software, enterprise, applications, networks, mobile and computing devices. Hookflash and Open Peer are trademarks of Hookflash Inc.
Developers can register at (http://fly.hookflash.me) to start using the Open Peer SDKs today.
For more information and an Open Peer/WebRTC White Paper please visit Hookflash http://hookflash.com.
Press Contact: Trent Johnsen
Hookflash
Press(at)hookflash(dot)com
855-HOOKFLASH (466-5352) ext 1