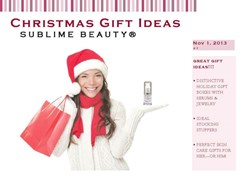 Sublime Beauty® makes gift giving easy with great suggestions for men and women. The new Christmas Guide is now available.
St. Petersburg, FL (PRWEB) November 06, 2013
The big holiday season is now underway. Sublime Beauty® offers a helpful gift guide to find those perfect presents or stocking stuffers, along with early sales and free shipping through Amazon. The guide can be downloaded or viewed on the Sublime Beauty® site.
"The holiday guide is full of juicy photos and information," says Kathy Heshelow, founder of Sublime Beauty®. "We have many of our popular products and then some special holiday gifts just for this time of year. We put together some special pairings of jewelry with serums in festive boxes just for the holidays, but there will be limited supplies."
The guide also includes inexpensive stocking stuffer suggestions, such as the healthy Skin Brushes (travel brush and original Skin Brush), new all-natural body oil, Fresh Scrub, Vitamin C Toner and the popular Face Whisperer® creams.
Several short Christmas videos from Sublime Beauty® are also available on the website. "We are getting great comments about our video featuring the Collagen and Hyaluronic serums in a beautiful box," said Heshelow.
"We try to take the stress away from finding great gifts and add some fun," says Heshelow.