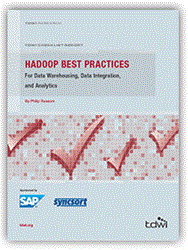 Most of the organizations adopting Hadoop are completely new to it. They need to educate themselves quickly about emerging best practices.
Seattle, WA (PRWEB) November 01, 2013
TDWI Research announced the release of its newest Checklist Report, Hadoop Best Practices for Data Warehousing, Data Integration, and Analytics. The report focuses on eight things organizations must consider when planning their first deployment of Hadoop's distributed file system (HDFS) and other Hadoop technologies.
"Most of the organizations adopting Hadoop are completely new to it, so they need to educate themselves quickly about emerging best practices," said Philip Russom, author of the report. "This report will assist with that education by beginning with an overview of the rapidly evolving Hadoop ecosystem and presenting a checklist of best practices for Hadoop. We provide use cases to make the cases come alive," Russom explains.

According to a recent TDWI survey about Hadoop, only 10% of respondents report having HDFS in production, although a whopping 63% expect to do so within three years—an aggressive adoption growth rate.
This report explains how organizations can plan their use of Hadoop for maximum business advantage by looking for specific problems to solve and involving business users in defining the applications for this technology. Another recommendation—learning about the extended Hadoop ecosystem—discusses the open source and vendor differences and explains the move toward deploying Hadoop products in a variety of combinations.
Russom also discusses:

How to extend an enterprise's data warehouse architecture with Hadoop
Seven data management best practices to embrace thanks to Hadoop
How to leverage Hadoop for relatively static, regularly repeated queries against massive data sets
Five ways enterprises can enjoy new uses from a few HDFS clusters
How to augment a Hadoop environment with special technologies for real-time data
About the Report
This report is designed to accelerate a reader's understanding of how organizations can be successful in investigating, implementing, and maximizing their use of Hadoop. The report uses real-world use cases to illustrate how enterprises can make effective use of the new technology.
This research was sponsored by SAP and Syncsort.
About the Author
Philip Russom is a well-known figure in data warehousing and business intelligence, having published more than 500 research reports, magazine articles, opinion columns, speeches, Webinars, and more. Today, he's the TDWI Research Director for Data Management at The Data Warehousing Institute (TDWI), where he oversees many of the company's research-oriented publications, services, and events. Before joining TDWI in 2005, Russom was an industry analyst covering BI at Forrester Research and Giga Information Group. He also ran his own business as an independent industry analyst and BI consultant and was a contributing editor with leading IT magazines. Before that, Russom worked in technical and marketing positions for various database vendors. You can reach him at prussom(at)tdwi(dot)org, @prussom on Twitter, and on LinkedIn at linkedin.com/in/philiprussom.
About TDWI
TDWI, a division of 1105 Media, Inc., is the premier provider of in-depth, high-quality education and research in the business intelligence and data warehousing industry. TDWI is dedicated to educating business and information technology professionals about the best practices, strategies, techniques, and tools required to successfully design, build, maintain, and enhance business intelligence and data warehousing solutions. TDWI also fosters the advancement of business intelligence and data warehousing research and contributes to knowledge transfer and the professional development of its members. TDWI offers a worldwide membership program, five major educational conferences, topical educational seminars, role-based training, on-site courses, certification, solution provider partnerships, an awards program for best practices, live Webinars, resourceful publications, and an in-depth research program. For more information, visit tdwi.org or follow us on Twitter @TDWI.
About 1105 Media
1105 Media, Inc., is a leading provider of integrated information and media in targeted business-to-business markets, including specialized sectors of the information technology community; industrial health, safety, and compliance; security; environmental protection; and home healthcare. 1105's offerings span print and online magazines, journals, and newsletters; seminars, conferences, and trade shows; training courseware; and Web-based services. 1105 Media is based in Chatsworth, CA, with offices throughout the United States.
Media Contact:
Jennifer Agee, TDWI
jagee(at)tdwi(dot)org | 425.277.9239