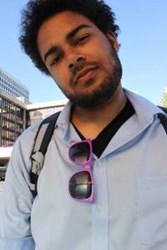 Portland, OR (PRWEB) November 02, 2013
Comedian and writer, Curtis Cook, has joined Laugh Staff to help consult clients on writing and delivering funny best man speeches.
Cook, an alum of Oberlin College, has kept himself busy writing and performing his own stand-up routine. After quickly becoming a crowd favorite at open mics and showcases in Northeast Ohio, Cook went on to become one of the most talked about up and coming comics in the Bridgetown Comedy Festival, The Seattle International Comedy Competition and the Salt Lake City Comedy Carivale.
In addition to his appearances in prestigious comedy festivals, Cook has quickly been making a name for himself at comedy clubs and theaters such as Hilarities 4th Street Theater, Helium Comedy Club and the Hawthorne Theater.
While at Oberlin, Cook earned a degree in their exclusive creative writing program and taught a course on the etiquette of public speaking. He frequently blogs on his very witty Tumblr, "Curtis Wants Whiskey," where readers can find his thoughts on Kwanzaa and LinkedIn.
"I've known Curtis pretty much since he started doing stand-up and Laugh Staff is lucky to have him," said Laugh Staff co-founder, Josh Womack. "Curtis has a style that is quick and intelligent. And his writing for his blog as well as the other publications he's contributed to is poignant and memorable. He is perfect for Laugh Staff."
Curtis will be returning to the Cleveland area the week of November 11 to compete in the 6th annual Cleveland Comedy Festival.
For more information on how to request Cook to consult on a best man speech, visit http://www.laughstaff.com, email info(at)laughstaff(dot)com.
About Laugh Staff, Inc:
Laugh Staff, Inc. was founded in 2012 by a team of comedians and writers in Cleveland, Ohio. Laugh Staff helps their clients with best man speeches as well as providing best man speech examples on their blog. They assist best men and maids of honor in speech-editing, speech writing, and provide training on speech delivery. Recognizing the importance of the big day, Laugh Staff's professional comedians work with best men and maids of honor to ensure they make a lasting impression.