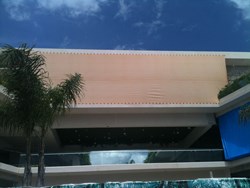 Playa del Carmen, Riviera Maya, Quintana Roo, Mexico (PRWEB) November 01, 2013
The construction was supervised by Hill International. The same company that supervised the Palms Project in Dubai, among many other world class properties. Hill International is widely recognized as having some of the most qualified engineers anywhere. That is why they are trusted with some of the most difficult construction projects on the planet.
So when it was time to look for a world class hurricane protection system, it was not by chance that they found Hurricane Solution. Hill knows how to pick contractors, understanding that with the right team, the whole is often equal to much more than the sum of the parts.
The selection process was intensive and involved nearly every company that has anything to do with hurricane protection in the region. Again, Hurricane Solution was selected for its superior protection system.
"Working with the professionals at Hill International has been extremely satisfying," lead installer for Hurricane Solution Gilbert Guzman was quoted as saying. "They are really a class A organization and this shopping center is second to none in Mexico."
The shopping center is located at the corner of Playa del Carmen's famous 5th Ave and Constitution Avenue. For more info on the center visit:
https://es.foursquare.com/v/5ta-alegria-shopping-mall/513e58a8e4b020367f5d2f26.