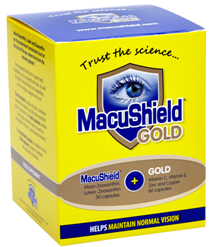 ....formulation of MacuShield® Gold corresponded accurately with the findings of AREDS 2
(PRWEB UK) 3 November 2013
UK's fastest growing eye care brand MacuShield® secured instant distribution after the formulation of MacuShield® Gold corresponded accurately with the findings of AREDS 2 (The Age-Related Eye Disease Study) early this year.
AREDS 2, conducted by the internationally recognised government body, The National Institute of Health, reported that macular pigment nutrients (Lutein and Zeaxanthin) in combination with other important vitamins and minerals (vitamin C/E and zinc) can in fact reduce the progression of AMD by 18%
AMD (Age Related Macular Degeneration) is the leading cause of blindness in the western world, which affects over half a million adults (over 55) in UK alone.
Age-Related Macular Degeneration causes loss of central vision robbing the individual of all but the outer most peripheral vision, leaving only dim images or black holes at the centre vision.
MacuShield® Gold was developed from MacuShield, a one-a- day supplement recommended by 70% of Opticians, Ophthalmologists and eye health professionals in the UK.
The new improved formula now contains added vitamins and minerals capsules as well as its patent formula Lutein, Zeaxanthin and Meso- Zeaxanthin to help increase the slow down and prevent visual impairment and furthermore AMD.