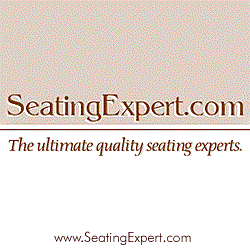 New York, NY (PRWEB) November 05, 2013
It hasn't been an easy year for anyone, particularly the restaurant industry. After a tumultuous winter and spring and a slow summer, however, restaurants are poised for a rebound. The weak economy, high unemployment and recent government shutdown had many people staying home and passing on the luxury that is dining out. This led to many restaurants scaling back on hiring and decorating which in turn hurt the restaurant furniture industry. Also, those who were looking to launch new restaurants and bars put their plans on hold as investors took a wait and see attitude.
Seating Expert, one of the leading online restaurant furniture suppliers felt the pain in diminished traffic and orders. After banner years in 2011 and 2012, the company saw a significant loss in 2013 and pointed to weak demand as the cause for the lack of profits. Now, however, according to an October article from NASDAQ, both the Restaurant Performance Index (RPI) and the Current Situation Index, which measures comparable store sales, traffic count, labor costs and capital expenditures in the restaurant industry, are showing underlying strength in the industry. This comes as welcome news for companies that cater to restaurants.
The trickle-down effect of slow restaurant growth was felt from staffing to furniture suppliers. With less people going out to dine and investors hesitant to back new ventures the companies that support the restaurant business were reeling from the loss. Seating Expert saw its online traffic and sales plummet and only recently has the tide begun to turn. Once the leading source for high quality restaurant chairs, tables and booths, the company was struggling to make up for the lost revenue.
Now, with the outlook brighter on restaurants and an expected rise in disposable household incomes, Seating Expert is again ready to supply traditional and contemporary restaurants with affordable wholesale restaurant furniture. By offering discount wholesale restaurant tables, bar stools and chairs, Seating Expert is able to help new restaurants open on time and existing restaurants complete renovations that improve the look and feel of the dining rooms and lounges.
Many people in the restaurant industry felt the pain from factors beyond its control. New stipulations related to the Affordable Care Act, volatility in housing data, higher fuel prices and job uncertainty had many people cutting costs across the board and one of the first things to go was entertainment. Dining out is considered a luxury in most households and with such economic uncertainty many families stayed in to eat. Now, with the forecast improving restaurants are once again thriving and in turn restaurant furniture suppliers are seeing more orders come in.
Seating Expert is a wholesale commercial furniture supplier offering high quality restaurant chairs, tables, booths and bar stools. Using the sturdiest metals and woods, Seating Expert manufactures traditional and contemporary restaurant furniture and adds attractive vinyl and fabric upholstering to match the décor and theme of a variety of restaurants.