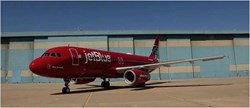 New York City, NY (PRWEB) November 01, 2013
Dean Baldwin Painting, LP. has been painting aircrafts for Jetblue Airways since 2010. So, this is not the first themed livery painted by the experts at Dean Baldwin Painting celebrating organizations for JetBlue. Dean Baldwin also painted the Boston Red Sox and New York State Tourism – "I Love New York" aircraft; but, the Blue Bravest aircraft is a special tribute. This innovative aircraft paint scheme is a vast departure from the JetBlue iconic blue and white and was painted red as a special tribute to the FDNY Foundation. "We appreciate the hard work and dedication of the firefighters and emergency medical technicians who work in NYC," said Barbara Baldwin, president and CEO of Dean Baldwin Painting, LP. "And for us, it is also a tribute to our hometown firefighters, paramedics and emergency medical technicians who work hard every day to keep us safe, sometimes to their own parcel".
The aircraft was painted with a special sense of pride and it showed in the beautifully painted bright red and blue aircraft. Upon its completion the aircraft flew directly to New York from Roswell, N.M. Once in the Big Apple, the plane did a low-altitude fly-by over the Hudson River at sunrise giving New Yorker's the first glimpse of this aircraft dedicated to the FDNY Foundation. "Dean Baldwin is a valued business partner," said Dave Barger, JetBlue's president and CEO. "Their work is equal parts art and science, as clearly seen in our Blue Bravest aircraft, honoring the FDNY Foundation. We appreciate their fine craftsmanship and professionalism." Dave Barger and FDNY Commissioner Salvatore Cassano revealed this aircraft to JetBlue crewmembers, friends and family and FDNY personnel on October 23 at JetBlue's JFK Hangar. "It was truly an honor to be asked by JetBlue to paint this livery for them and I am proud to be a JetBlue business partner," Barbara continued.
About JetBlue Airways
As New York's Hometown Airline™ and a leading carrier in Boston, Fort Lauderdale/Hollywood, Los Angeles (Long Beach), Orlando and San Juan, JetBlue carries approximately 30 million customers a year to 79 cities in the US, Caribbean and Latin America with more than 750 daily flights. With JetBlue, all seats are assigned, all fares are one-way, and an overnight stay is never required. JetBlue's fleet totals 190 aircraft, comprising 130 Airbus A320s, 1 Airbus A321 and 59 EMBRAER 190s. Upcoming destinations include Detroit, Mich., Savannah, Ga., and Worcester, Mass. as well as Port-au-Prince, Haiti; Port of Spain, Trinidad and Tobago; and Lima, Peru, subject to receipt of government approval. For more information please visit JetBlue.com.
JetBlue Media Relations
(718) 709-3089
About Dean Baldwin Painting, LP.
Dean Baldwin Painting, LP. with Corporate offices in Bulverde, Texas and facilities in San Antonio, Texas; Roswell, New Mexico; Goodyear, Arizona and Peru, Indiana has been providing expert aircraft painting services to the aviation industry for over forty-eight years. The company has a respectable client base that includes SkyWest Airlines, US Airways, jetBlue Airways, American Airlines, Air Canada, ExpressJet, ABX Air and many other highly regarded air carriers. In addition, the company is an experienced service provider to the US Government having completed over 250 C130 aircraft over a seven year contract with Hill AFB for stripping and painting which earned the company a good Past Performance Record with the Air Force. Dean Baldwin Painting also carries out high end paint services for corporate and private operators. For more information, please visit the Dean Baldwin Painting website.