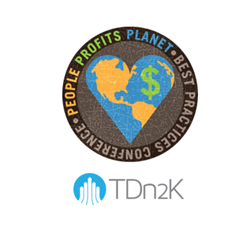 'In increasingly complex and competitive times for the service sector, these companies continue to innovate and improve their performance through their remarkable commitment to balancing people and profits.' - Joni Thomas Doolin, CEO of TDn2k
Dallas, Texas (PRWEB) November 07, 2013
Today, TDn2K, the new parent company of People Report and Black Box Intelligence, announced the winners of the 2013 People Report Best Practices Awards at the 19th annual Global Best Practice Conference. These awards celebrate best in class restaurant organizations for workplace excellence in their specific segment of the dining industry.
In front of a record crowd of their fellow restaurant executives, that included leaders from Starbucks, Ignite Restaurant Group, Le Duff America, Applebee's, Carlson Restaurants Worldwide, BJ's Restaurant and Brewhouse, Brinker International, Domino's and Yum! Brands, four companies were recognized as the leaders in for restaurant industry human resource practices.
The 2013 award winners are: Boston Market, The Capital Grille, Longhorn Steakhouse and White Castle. These companies are evaluated based on their results in hourly and management retention, compensation, and diversity, as well as other workforce practices including community involvement and green initiatives.
"In increasingly complex and competitive times for the service sector, these companies continue to innovate and improve their performance through their remarkable commitment to balancing people and profits." - Joni Thomas Doolin, CEO of TDn2k and founder of People Report.
This year, TDn2K presented the first annual Diamond Catalyst Award to The Cheesecake Factory Inc. honoring extraordinary performance in both human resource practices and operational results. "The Cheesecake Factory has exhibited excellence on both the sales and employee sides of the business. Their practices have created a diverse workforce with turnover rates that are among the lowest in the industry and have yielded a track record of sustained sales superiority worthy of recognition," said Michael Harms, Executive Director of Operations for TDn2K.
The Heart of the Workplace award is presented to the company that demonstrates top results in their human capital metrics, but also demonstrates significant commitment to and investment in their employees and communities. The 2013 recipient was Chili's Grill and Bar, also a Best Practices finalist.
"These companies clearly demonstrate that people and profits have a direct correlation. They invest in their people and all of our winners have thriving and growing businesses that are best in class," said Wally Doolin, Chairman of TDn2K. "Every one of them believes that the commitment to their people and their communities are key reasons for their success."
People Report provides service-sector human capital and workforce analytics for its members on a monthly basis. Its sister company, Black Box Intelligence, provides weekly financial and market data for the restaurant industry. Together they report on over 34,000 restaurant units, one million employees and 35 billion dollars in sales. They are also the producers of two leading restaurant industry conferences: Summer Brand Camp and the Best Practices Conference. Each held annually in Dallas, Texas.