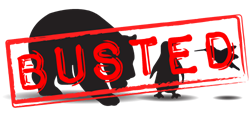 Our goal is to help clarify what we've found as SEO myths that are prevalent in the industry.
Charlottesville, VA (PRWEB) November 04, 2013
Constant updates to Google's search algorithm, including Panda, Penguin and, most recently, Hummingbird, make it difficult to discern between SEO fact and fiction. Join Search Mojo's President and CEO, Janet Driscoll Miller, and Vice President of Accounts, Tad Miller, for the upcoming webinar, "Top 14 SEO Myths...Busted," broadcasting November 7, 2013 at 2 p.m. ET. The webinar is open to all marketing and web professionals to help them make sound SEO choices for their websites.
The presenters will review and debunk many commonly-held myths related to SEO, including the rumored death of SEO, how social signals affect search rankings and the use of links in press releases.
"There's more misinformation about SEO than there is truth," said Tad Miller. "For example, we shouldn't be focusing on meta tag keywords because they haven't mattered in years."
"Our goal is to help clarify what we've found as SEO myths that are prevalent in the industry," said CEO, Janet Driscoll Miller. "It can be confusing for marketers to know what to believe because SEO is in a constant state of flux. Anyone who has familiarity with creating or marketing websites will find this webinar to be helpful in understanding the foundation of what's current in the industry.
To register for the webinar, go to http://www.search-mojo.com/myths.
About Search Mojo
Search Mojo specializes in search engine marketing, social media advertising, content marketing and analytics services. Founded in 2005, Search Mojo uses the latest information and techniques to help companies improve their conversions and lead generation through search and social tactics. Learn more about Search Mojo at search-mojo.com or read our blog, Search Marketing Sage, at blog.search-mojo.com.