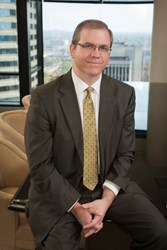 "We are honored to have a seasoned lawyer like Bryan Pieper join our firm," said Charles W. Bone, founder and chairman of Bone McAllester Norton.
Nashville, TN (PRWEB) November 04, 2013
The law firm of Bone McAllester Norton PLLC continues to grow with the addition of Vanderbilt alumnus, Bryan Pieper, the firm's newest attorney in labor and employment law and commercial litigation.
"We are honored to have a seasoned lawyer like Bryan Pieper join our firm," said Charles W. Bone, founder and chairman of Bone McAllester Norton. "We look forward to sharing his depth of experience with our clients and sharing our firm's full-service expertise with Bryan's clients."
Mr. Pieper practices law in the areas of labor and employment and commercial litigation, helping clients prevent and resolve employment law and business disputes. His focus is on dispute resolution and also on dispute prevention through measures such as policy preparation, HR training and corporate compliance. He is also an experienced Rule 31 Civil Mediator.
Mr. Pieper's commercial litigation practice involves a variety of business areas, including corporate officer and director liability, fraud, theft of trade secrets, breach of contract, copyright infringement and antitrust violations.
Prior to joining Bone McAllester Norton, Mr. Pieper was an owner of the law firm DHPM PC, formerly Drescher and Sharp P.C. His early career was an attorney with Stokes, Bartholomew, Evans and Petree (now Adams & Reese).
Mr. Pieper speaks frequently to trade associations and at legal seminars on employment law topics such as wrongful termination, discrimination, ADA, FMLA, FLSA, overtime regulation and covenants not to compete.
A resident of East Nashville, Mr. Pieper is a graduate of Vanderbilt University Law School. He is a member of the Society for Human Resource Management, Tennessee Association of Professional Mediators, Tennessee Trial Lawyers Association, American Bar Association, Tennessee Bar Association and Nashville Bar Association.
For more information, visit http://www.bonelaw.com
ABOUT BONE MCALLESTER NORTON PLLC
Bone McAllester Norton PLLC is a full-service law firm with 37 attorneys and offices in Nashville and Sumner County, Tennessee. Our attorneys focus on 17 distinct practice areas, providing the wide range of legal services ordinarily required by established and growing businesses and entrepreneurs. Among our practices, we represent clients in business and capital formation, mergers and acquisitions, securities matters, commercial lending and creditors' rights, commercial real estate and development, governmental regulatory matters, commercial litigation and dispute resolution, intellectual property strategy and enforcement, entertainment, environmental matters, criminal defense and government investigations and labor and employment. Our client base reflects the firm's deep understanding and coverage of today's leading industry and business segments. For more information, call 615-238-6300 or visit http://www.bonelaw.com.
Contact: Elizabeth Fielding 615.321.3110 / elizabeth(at)tsgnashville(dot)com