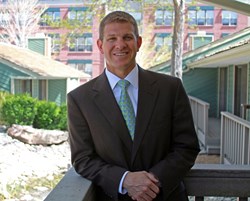 Greenwood Village, CO (PRWEB) November 01, 2013
Patients can now benefit from tooth and bone loss prevention by receiving laser gum disease treatment in Greenwood Village, CO from Dr. Adam Weaver. Using the Laser Assisted New Attachment Procedure (LANAP), Dr. Weaver is able to treat gum disease and stimulate bone growth, possibly preserving teeth that are at risk of being lost.
Advanced gum disease can cause significant damage to gum tissue, teeth, and even the bone that supports the teeth. If the condition is not treated early enough, patients may lose teeth, which leads to many unfortunate effects. The way that patients speak and the food that they are able to eat can be affected by tooth loss. Even the remaining undamaged teeth can be negatively affected, as they can shift out of position into the gap left by missing teeth. However, long-term loss of bone density is one of the more troubling consequences of tooth loss.
The reason for bone density loss is lack of bone stimulation. Normally, the jaw bone continues growing because it receives stimulation from the roots of the teeth anchored in it. Without the stimulation, the jaw bone starts disintegrating away. The process can continue to the point where bone density is insufficient to support tooth replacement options like dental implants and dentures when teeth are lost.
People may be able to prevent most or all tooth loss by visiting Dr. Weaver to have the laser gum disease treatment. LANAP offers a few benefits for people with periodontal disease who are concerned about the possibility of tooth loss. Dr. Weaver does not have to cut or otherwise damage healthy tissue during this new procedure, which leaves the teeth better supported and lowers the risk of infection. The laser that Dr. Weaver uses even has a beneficial effect on bone by stimulating it. This can help loose teeth form a better attachment. Visiting Dr. Weaver for LANAP can go a long way toward preserving teeth and, as a result, bone density.
People near Greenwood Village who are concerned about periodontal disease and the risk of tooth and bone loss should not delay seeking gum disease treatment. Patients can call Dr. Weaver's office to make an appointment or to get more information on how LANAP can help them.
About the Doctor
Dr. Adam Weaver is a periodontist offering personalized dental care for patients in Greenwood Village, CO since 2000. Dr. Weaver attended Brigham Young University, and during that time took a two year leave to serve as a missionary for the Church of Jesus Christ of Latter-day Saints. Upon his return he completed his bachelor's degree in Medical Science. He attended dental school at the University of Colorado Health Sciences Center where he received his Doctor of Dental Surgery degree. He joined the periodontal residency program at the V.A. Medical Center in Milwaukee, WI, and earned his Masters of Science degree at Marquette University. Dr. Weaver is fluent in Spanish, Portuguese and Guarani. He is part of one percent of dental professionals providing the LANAP FDA cleared laser procedure for gum disease and periodontal treatment. To learn more about Dr. Weaver and his dental services visit his website at http://www.mtperio.com and call (303) 800-0120.