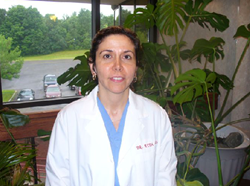 New York, NY (PRWEB) November 02, 2013
Dr. Neda Azadivatan of Precision Periodontics & Dental Implants now offers New York patients in midtown NYC a whole new option for replacing missing teeth that leverages the best of dental implants and denture technology to deliver outstanding comfort, stability and functionality. Implant-supported dentures last longer than traditional dentures, reducing the long-term impact of multiple visits for new prosthesis. The implant post stimulates the jaw bone as a natural tooth would to help prevent bone degeneration over time.
Patients who have lost only one or two teeth may be candidates for traditional dental implants but in the case of multiple tooth loss, additional options need to be considered. Adults missing teeth historically have had to rely upon dentures that essentially sit on top of the gums. Such prosthesis are prone to sliding. Patients experience some loss of natural chewing and other functions, as well as occasional discomfort. Implant-supported dentures offer incredible stability as the denture is directly connected to implants positioned directly into the jaw bone.
Dr. Azadivatan utilizes two different types of implant-supported dentures that patients in midtown NYC may take advantage of. The first features three or four implant posts in the jaw bone connected to a metal bar on top of the gum line, made to fit the exact curvature of a patient's gum and mouth. The denture then snaps onto the metal bar and is held in place by the dental implants. Another option features a ball-style top on each of the three or four implants placed into the bone. The interior of the dentures then include a corresponding socket to match up to each ball when put into place. Both the bar-retained and the ball-retained denture provide protection against jaw bone loss and will last longer than the five- to seven-year average of traditional dentures.
Adults missing teeth who are interested in learning more about improved denture placement and performance are invited to contact Dr. Azadivatan's office.
About The Doctor
Precision Periodontics & Dental Implants is a periodontal practice offering personalized dental care for patients in New York, NY. Dr. Neda Azadivatan is a graduate of New York University and completed her periodontal training at the University of Medicine and Dentistry in New Jersey. Dr. Azadivatan provides dental implants in Manhattan, NY and belongs to the one percent of dental professionals providing the LANAP FDA cleared laser procedure for gum disease and periodontal treatment. As a quality-minded periodontist, Dr. Neda directs and works closely with the technicians who provide assistance and construct the materials used in periodontal treatments. To learn more about Precision Periodontics & Dental Implants and their dental services, visit their website at http://www.midtownlaserperio.com and call (646) 863-8086.