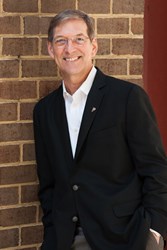 Washington D.C. (PRWEB) November 03, 2013
Patients with missing teeth and low jaw bone density should visit Dr. Russell Phillips to find out if they are eligible for All-on-4 dental implants, which use implants to hold a denture in place.
Many people do not realize that loss of bone density is inevitable once teeth have been lost. Stimulation of the teeth is what signals the jaw bone to continue growing and maintaining itself. Tooth roots normally provide this stimulation, but implants can have the same effect. People who choose tooth replacements like dentures that are not set into the bone can experience visible changes in jaw bone density in even a year. As a result of these changes, dentures will eventually require refitting.
Dr. Phillips recommends All-on-4 because the implants prevent undesirable bone density loss, and because they are a feasible option for most patients. For patients whose bone density has already decreased, individual implants might not be the most feasible option for areas where bone density is low. The All-on-4 technique only uses four implants, which can be placed wherever bone density is superior. The technique has a success rate of 98.5 percent.
There are a few other attributes that make All-on-4 dental implants appealing. Unlike dentures, implants are secure, so patients can talk and eat like they normally would. The results are also quick; Dr. Phillips just needs two sessions to place the implants and the attached set of teeth. Temporary teeth are used during the first session, and once the implants are stabilized in the bone, Dr. Phillips attaches the permanent set.
Patients who are considering their tooth replacement options can visit Dr. Phillips' website for more information, or call his office to make an appointment.
About the Doctor
Russell W. Phillips, DMD is a general practitioner with advanced training offering personalized, comprehensive dental care for Washington D.C. gum disease patients since 1984. Dr. Phillips graduated from Penn State University and earned his D.M.D. dental degree from the University of Pennsylvania with honors. He later returned to University of Pennsylvania for the Periodontal Prosthesis and Periodontics program. He continues his education and remains involved in many dental organizations. Dr. Phillips is part of one percent of dental professionals providing the most recent FDA cleared laser procedure for gum disease treatment. To learn more about Russell W. Phillips, DMD and his dental services visit his website at http://www.russellphillipsdmd.com and call (202) 350-4581.