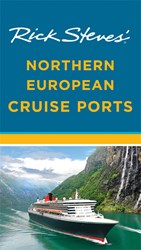 There's something free going on, somewhere on the ship, virtually every minute of every day.
Berkeley, CA (PRWEB) November 05, 2013
Many people choose cruising because it's extremely affordable. With accommodations, food, and transportation included for one low price, cruising is simply a steal. But reckless spending on a cruise can leave you with a hefty bill once you're back on shore.
Rick Steves—award-winning travel writer, popular radio and television show host, and author of the newly released Rick Steves' Northern European Cruise Ports and Rick Steves' Mediterranean Cruise Ports—offers these money-saving strategies to make the most of a Northern European cruise experience:
1. Buy as little on board as possible: Everything—drinks, Internet access, and knick-knacks—is priced at a premium for a captive audience. For most items, cruisers are paying far more than they would off the ship.
2. Skip the excursions: While shore excursions are easy and efficient, travelers may be charged $80 to100 per person for a transfer into town and a walking tour of the old center. For the cost of a $2 bus ticket, explorers can get downtown and join a $15 walking tour that covers most of the same sights.
3. Stick with the main dining room: If the cruise ship has specialty restaurants that levy a surcharge, skip them in favor or the "free" (included) meals in the main dining room—which are typically good quality.
4. Save some breakfast for lunch: Heading out for a long day in port? Get a big breakfast and bag up the leftovers to eat until dinnertime. Some cruise lines even sell a packed lunch for about $10.
5. Minimize premium beverage purchases: Alcohol, soda, and specialty coffee drinks can add up fast.
6. Stay out of the casino: With a casino and slots on the ship, it's easy to fall into a gambling habit.
7. Don't buy onboard photos: Come to think of it, don't even let them take any onboard photos—so there's no temptation to buy them later.
8. Turn off the smartphone: Internet access and phone rates on a cruise are very high. To check email, visit an Internet café in port rather than on board.
9. Take advantage of free services on board: Rather than buy a book, check one out from the ship's library. Instead of ordering a pricey pay-per-view movie in the cabin, enjoy the cruise's free musical performances, classes, and activities. There's something free going on, somewhere on the ship, virtually every minute of every day.
For more money-saving tips or to set up an interview with Rick Steves, please contact Eva Zimmerman at 510.809.3834 or at eva.zimmerman(at)perseusbooks(dot)com
About Avalon Travel
Avalon Travel is the largest independent travel publisher based in the United States. Major series include Rick Steves, the top-selling European guidebook series in the U.S.; Moon, with guides to more than 200 destinations around the world; and Road Trip USA. Based in Berkeley, California, Avalon is a member of the Perseus Books Group. For more information, visit avalontravelbooks.com.
About Rick Steves
Rick Steves is on a mission: to help make European travel accessible and meaningful for Americans. Since 1973, Steves has spent four months every year exploring Europe. He's researched and written more than 50 travel guidebooks, writes and hosts the public television series Rick Steves' Europe, and also produces and hosts the weekly public radio show Travel with Rick Steves. With the help of his hardworking staff at Europe Through the Back Door, Steves organizes and leads tours of Europe and offers an information-packed website, ricksteves.com. When not traveling through Europe, Steves lives in Edmonds, Washington.