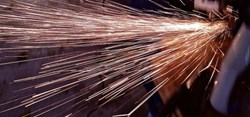 (PRWEB UK) 2 November 2013
Businesses and private users who require smaller sheets of steel can now order them via a new internet based business http://www.buymetalonline.co.uk. A sister enterprise of North East based, Amerex Ltd, is suitable for anyone who requires one-off's or does not require a full size sheet of material.
Available on next-day dispatch via an online ordering service, the website went live in early October 2013 and is already taking orders.
In the past when ordering steel, you would need to make a trip to your local steel stockholder and buy a standard 8 foot by 4 foot sheet. Now http://www.buymetalonline.co.uk presents an alternative option supplying the buyer with smaller sheets of steel to suit smaller projects.
Sara Halman-Thompson, partner, said, "There are so many people out there who only need a small piece of material to make repairs to their house, for example," she explains. "The unnecessary expenditure and effort of buying a full sheet, storing what's left – and possibly never using it – is now averted with http://www.buymetalonline.co.uk. We save you time and money as you can buy any size of sheet metal you need, quickly and easily, cut to length with no minimum order. We then deliver it direct to your door.
"As the second generation in a family business, with over 30 years serving the industry, my brother Ross Halman and I recognised a gap in the market and the need for an online site catering to the needs and demands of customers today."
Sara says the site has seen a surge in orders since launching three weeks ago and are already looking to employ two members of staff, with further growth expected from there.
The website at http://www.buymetalonline.co.uk allows users to select mild steel sheet; galvanised, cold reduced, zintec, hot rolled and durbar floor plate. Mild steel can be selected in thicknesses ranging from 0.5 to 6mm in all sizes. All of the products are in stock for next day dispatch or collection from the warehouse in Newcastle.
Notes to the Editor

Corrugated galvanised sheet and sections and angles will also soon be available.