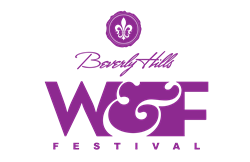 Food Network chefs at the event of the year!
(PRWEB) November 05, 2013
The Revel in the atmosphere of decadence defined at the 4th annual Beverly Hills Wine & Food Festival, and prepare to be impressed. From our elegant atmosphere to our 5 star chefs and the first class feasts that they offer, no event shines as brightly as The Beverly Hills Wine & Food Festival. This year, take part in the pleasurable as we introduce you to flavorful foods like never before. Beverly Hills Wine & Food Festival announces the addition of US Foods to its long list of star-studded sponsors, and proudly offers patrons the opportunity to try culinary masterpieces from 3 of the company's top chefs. Chefs Aaron Williams, Rahm Fama and Penny Davidi will thrill you will their expertise as they give you a taste of true excellence infused with freshness and fun.
November 15, 5pm to 8pm | Mixology After Dark
November 16, 1pm to 5pm | Grand Tasting
November 17, 1pm to 5pm | Grand Tasting
Patrons have the unique opportunity to experience guilt-free opulence while benefiting charities and organizations that have made measurable strides in helping the less fortunate.
For further information and to reserve your tickets to this sell-out event, visit http://beverlyhillswineandfoodfestival.com. Give yourself the gift of experiencing the finest food & wine that Beverly Hills has to offer, while you help create positive change in the world.
About Hyatt Regency Century Plaza
Located at 2025 Avenue of Stars in the heart of Los Angeles' fashionable Westside, Hyatt Regency Century Plaza is often frequented by celebrities, politicians and dignitaries. All of the hotel's 726 guestrooms and suites offer a modern décor with residential touches. Hotel amenities include: a one of a kind, ground level, VIP Regency Club; a Starbucks Coffee Bar; a state-of-the-art Equinox Fitness Club & Spa; the famous Lobby Court & Patio; Les Clef d'Or Concierge staff; an infinity edge pool; on-site Hertz rental desk and 24- hour in –room dining service. For reservations and more information, call: 310-228-1234. For reservations at any Hyatt hotel worldwide, call 800-233-1234 or log onto http://www.Hyatt.com.
About Hyatt Regency
Hyatt Regency offers a full range of services and facilities tailored to serve the needs of meeting planners, business travelers and leisure guests. Properties range in size from 180 to over 2,000 rooms and are conveniently located in urban, suburban, airport, convention and resort destinations around the world. Hyatt Regency convention hotels feature spacious meeting and conference facilities designed to provide a productive environment allowing guests to convene and connect. Hyatt Regency hotels in resort locations cater to couples seeking a getaway, families enjoying a vacation together and corporate groups seeking a functional and relaxed atmosphere in which to conduct business and meetings.
About Celebrity Cruises:
Celebrity Cruises' iconic "X" is the mark of modern luxury, with its cool, contemporary design and warm spaces; dining experiences where the design of the venues is as important as the cuisine; and the amazing service that only Celebrity can provide, all created to provide an unmatchable experience for vacationers' precious time. Celebrity Cruises' 11 ships offer modern luxury vacations visiting all seven continents. Celebrity also presents immersive cruisetour experiences in Alaska, Australia/New Zealand, Canada, Europe and South America. Celebrity is one of five cruise brands operated by global cruise vacation company Royal Caribbean Cruises Ltd. For more information, dial 1-800-437-3111, visit Celebrity Cruises, or call your travel agent.
About Auto Gallery:
At The Auto Gallery we take pride in everything we do. We offer cars to the greater Los Angeles area, from Santa Monica to Pasadena; and from Santa Barbara all the way down to the OC. We have stores in Beverly Hills, Woodland Hills and Calabasas. With brands including McLaren, Ferrari, Lamborghini, Pagani, Porsche, Audi, Maserati and Fiat, we're your first choice for a new or CPO vehicle. And when you buy from the Auto Gallery, you become part of The Auto Gallery family, with access to our events and offers throughout the year. With us, it about more than just a car. It's the lifestyle.
About McLaren:
Drawing on 50 years of racing success, McLaren has created some of the most iconic and exhilarating road cars the world has ever seen. The 12C is the first McLaren designed and built production car since the legendary F1. A pure McLaren, its innovative design and Formula 1™ inspired technologies make it one of the most versatile and potent supercars on the road.
The 12C was created at the McLaren Technology Centre in Woking, UK under the same roof as McLaren Racing and the Vodafone McLaren Mercedes Formula 1 team, so it's no surprise that 'performance' lies at the heart of the 12C and the McLaren Automotive team responsible for its design, development, engineering and now manufacture. The 12C's performance is clearly influenced by the McLaren F1 and Mercedes-Benz SLR McLaren road car projects. Most notably, in the competitive step-changes seen on the 12C through carbon composite engineering, packaging, and aerodynamics.
Nothing drives like a McLaren because nothing has been designed quite like a McLaren. In McLaren's language, convertible does not mean compromise. Reduced weight doesn't mean reduced strength. Power doesn't have to come at the expense of efficiency. Dynamic handling doesn't mean you have to sacrifice road comfort. No other sports car on the road today adheres to such an uncompromising philosophy. But then there's no other groundbreaking technology company quite like McLaren.
About the James Beard Foundation
Founded in 1986, the James Beard Foundation's mission is to celebrate, nurture, and honor America's diverse culinary heritage through programs that educate and inspire. A cookbook author and teacher with an encyclopedic knowledge about food, James Beard, who died in 1985, was a champion of American cuisine. He helped educate and mentor generations of professional chefs and food enthusiasts, instilling in them the value of wholesome, healthful and delicious food. Today the Beard Foundation continues in the same spirit by administering a number of diverse programs that include educational initiatives, food industry awards, scholarships for culinary students, publications, chef advocacy training, and thought-leader convening. The Foundation also maintains the historic James Beard House in New York City's Greenwich Village as a "performance space" for visiting chefs. In September of 2012, the Foundation launched the Diplomatic Culinary Partnership with the U.S. Department of State's Office of Protocol and helped create the American Chef Corps as a way to champion American chefs abroad, promote American food products and foster an interest in American culinary culture and history through international programs and initiatives. For more information, please visit http://www.jamesbeard.org.
About Food Fanatics Chef Aaron Williams
Chef Aaron Williams has quickly become a go-to restaurant turnaround guru in the greater Los Angeles and Orange County area. Regularly tapped by local and national restaurateurs for his unique insights and menu makeovers, Chef Aaron is known for turning first-time customers into frequent diners. Focused on developing both on-trend and classic menu items that will please diners' palates, he is constantly testing new products and recipes that help restaurant operators and chefs to succeed. He earned his culinary chops in the kitchens of some of California's largest sports stadiums, including the Diamond Club Restaurant in Anaheim's Angel Stadium and at the Honda Center, where he regularly cooked for top athletes and celebrities. While Chef Aaron's culinary style draws influence from Thai, Latin and Indian cuisines, he notes Mexican cuisine as his real specialty area and credits this to learning to cook in his family kitchen at an early age.
About Chef Rahm Fama
US Foods Chef, Food Network Host and Cookbook Author of "Meat and Potatoes", Chef Rahm uses his extensive culinary experience, focused on all things meat, to inspire and serve local restaurateurs. Inspired by a life full of cattle ranching and working his way up through the restaurant ranks, Chef Rahm has helped hundreds of restaurants operators and chefs rekindle their passion in food. He spent more than four years as executive chef of La Posada de Santa Fe Resort & Spa transforming the award-winning Fuego restaurant into a world-class destination. He then took a job as the executive chef for the Lodge at Vail in Colorado, overseeing all culinary operations including the signature AAA Four Diamond Award winning restaurant, The Wildflower, and the Tuscan-style dining venue, Cucina Rustica. In 2002, Chef Rahm was named by Conde Nast's Traveler, Top 50 Chefs of the World, and was invited to cook at the prestigious James Beard House in 2006 and 2008.
About Chef Penny Davidi
As a winner of Chopped All Stars, a contestant on The Next Food Network Star, a sous chef on Iron Chef and a contestant on Cutthroat Kitchen, US Foods Culinary Specialist Penny's culinary talent and expertise has well prepared her to engage chefs nationwide to create fresh, on-trend dishes that consumers crave. Born in Iran and raised in California, Penny is the first Persian Jewish Chef and Businesswoman to be featured on Food Network. A mother of two teenagers, Penny grew up learning the art of cooking from the women in her family and used this knowledge as a launching pad to fuse creativity and personality to develop her own innovative recipes. She also has a complete line of Olive Oils, a Rice Bran Oil and blended spices that are launching in Fall 2013 and 2 restaurants opening this year.
About US Foods
With approximately $22 billion in annual revenue, US Foods is the 10th largest privately held company in America. As one of America's great food companies and leading distributors, US Foods is Keeping Kitchens Cooking and making life easier for more than 200,000 customers, including independent and multi-unit restaurants, healthcare and hospitality entities, government and educational institutions. The company offers more than 350,000 products, including high-quality, exclusive brands such as the innovative Chef's Line, a time-saving, chef-inspired line of scratch-quality products, and Rykoff Sexton, a premium line of specialty ingredients sourced from around the world. The company proudly employs approximately 25,000 people in more than 60 locations nationwide. US Foods is headquartered in Rosemont, Ill., and jointly owned by funds managed by Clayton, Dubilier & Rice Inc. and Kohlberg Kravis Roberts & Co. Discover more at http://www.usfoods.com.
Event Contact: Alan Semsar alan(at)barcelona(dot)la | 818-288-4050
Hotel Contact: Adrienne De Vore adrienne.devore(at)hyatt(dot)com | 310-551-3299