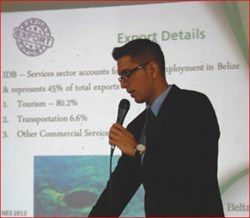 "We cannot afford an 'all the eggs in one basket' mentality. A strong economy with several sectors all performing well is the key to the future, and that's something we in the eco-tourism business need to communicate."
(PRWEB) November 04, 2013
The owners of the Lodge at Chaa Creek, a major employer in Belize, said they "wholeheartedly" support the views of an international development expert who visited Belize the last week in October lecturing that the future of Belize relies on the further development of agriculture.
Lucy Fleming, co-owner and GM of Chaa Creek, said that she agrees with the views of Frank Lam that Belize's future lies in diversification and ensuring that agriculture remains an important economic sector in Belize in terms of income generation, employment and poverty alleviation.
Combined with the burgeoning eco-tourism sector, a strong agricultural base will contribute to Belize's long term prosperity, she said.
"We cannot afford an 'all the eggs in one basket' mentality. A strong economy with several sectors all performing well is the key to the future, and that's something we in the eco-tourism business need to communicate. We should support sectors outside of our own industry," she said.
Frank Lam is a specialist on Agro Economics and Commerce attached to the Inter-American Institute for Cooperation in Agriculture (IICA) who was in Belize to encourage members of the Small and Medium Enterprises (SME) sector in agriculture to aim at the niche markets that now exist abroad.
However, Lam stressed that the development of higher quality of export products, timeliness and attention to marketing intelligence were essential for success.
According to Belize's Guardian Newspaper of November 1, the IICA is part of the technical support and cooperation agency arm of the Inter American System, which includes 34 countries including Belize, aimed at agricultural development and support for rural populations. With headquarters in Costa Rica, the IICA maintains an office in Belmopan as well as Miami, Florida.
Lam and his team said their roles are to support small and medium businesses and assist them with getting their products into the United States, Canadian and European Markets. Speaking to the Guardian, Lam said that Belize has several distinct advantages in trading with the rest of the world, such as an English speaking population, favourable geographical location with proximity to Miami and a tropical climate.
However, Lam stressed, attention to quality is important
"I think quality should be an important element in whatever business Belize is going to enter…many people think that competing with low prices will be an advantage but I don't think so, this approach has been proven to be wrong, we have so many other countries in the region that can compete with lower prices," Lam said.
"The market is changing very rapidly in the agriculture sector so if a farmer or an organisation of farmers don't follow up on what's about to change in consumer behaviour, in packaging, in colour, changes in flavours, one product can be easily obsolete…we need to understand also that Belize can supply specific windows in the year when nobody else is producing, so we need to teach our farmers when is the right time," Lam explained.
Market intelligence, he stressed, is crucial in this and many aspects and he recommended that both the Ministry of Agriculture and the Belize Trade and Investment Service (BELTRAIDE) further develop specialized units of marketing intelligence to inform farmers on the status of "very demanding" crops like fruits and vegetables on the world market.
BELTRAIDE official Hero Balani said Belize's domestic exports are bananas, citrus (grapefruit & orange concentrate) and sugar, marine products such as conch, aquarium fish, lobster, pink sea shrimp and white farm shrimp are also attractive commodities, as are black eye beans, molasses, pepper sauce, red kidney beans and sawn wood and veneer sheet.
"Ever since Belize became more tourism oriented, which has been to our great advantage, we sometimes forget the importance of our other export commodities, both traditional and emerging. Belizeans are a very innovative people, and I like to think that we'll be seeing even more export products on the horizon," Ms Fleming said.
"Those of us in the tourism industry deal with a variety of people from around the world and we understand the importance of a healthy, innovative, diversified economy, and there's no doubt that Belize has great potential in so many areas. We are a very fertile country with vast tracts of land suitable for agriculture.
"Forums such as these are important reminders to all of us of that," she added.
The Lodge at Chaa Creek is an award winning eco resort set within a 365 acre private nature reserve in Belize.
ENDS