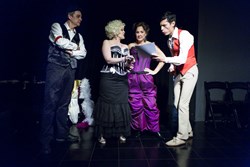 "Darlene Violette channels Mae West to perfection!" — Stu Hamstra
New York, NY (PRWEB) November 05, 2013
Several exciting events during the month of November (including a gala commemorative dinner) bring the Brooklyn bombshell back to her hometown admirers at different locations in Manhattan.
.
Bushwick native Mae West [1893-1980], remembered for her motion pictures, rose to fame during the 1920s with headlines such as "Actress and Author Arrested for Alleged Indecent Performance" and "Mae West Defies Cops." She wrote plays for Broadway and checks to bail out her cast; she rode in limousines and paddy wagons; she slept in a swan bed onstage and an iron cot in the Women's Workhouse; and she's liberally quoted in Bartlett's as well as in a trove of trial transcripts.
.
To go back in time with Broadway star Mae West, see "Diamond Lil," the "melodrama of the underworld" that the legendary actress wrote in 1928 and toured with until 1951. A considerably altered version became the film "She Done Him Wrong" [1933] starring Mae as saloon singer Lady Lou and featuring a young Cary Grant as Captain Cummings.
.
To learn more about the real life of Mae West, when she was arrested, jailed, and persecuted by City Hall and the police, check out "Courting Mae West," a play based on her legal woes from 1926—1932.
.
About "Diamond Lil" written by Mae West and adapted by LindaAnn Loschiavo:
"Diamond Lil" is set in 1895 on the Bowery in Chinatown. Diamond-loving Lil, a chanteuse starring at Gus Jordan's dance hall, becomes fixated on Captain Cummings, who seems to be the leader of a Bowery rescue mission and a clean-living decent man. Diamond Lil falls in love with this handsome missionary, unaware that he is an undercover detective who is about to arrest her and her lover Gus Jordan, ending the criminal enterprise that has brought her to prominence and filled her jewelry box with diamonds.
.

• Watch a Video of "Diamond Lil" • •
.
About "Courting Mae West" written by LindaAnn Loschiavo:
"Courting Mae West: Sex, Censorship, and Secrets," based on true events during the Prohibition Era, follows the Broadway actress-writer as she is arrested, jailed, hounded by the purity police, and bankrupted by City Hall for the crime of staging gay plays on Broadway, which turns out to be the ideal way to climb the success wrong by wrong.
.
— — — — — Where, When, Who, What — — — — —
WHERE: Jefferson Market Library, 425 Sixth Avenue, New York, NY -- -- in the same chamber where Mae West [1893—1980] faced off with the magistrate in 1927
WHEN: 7:00pm, Friday, Nov. 22, 2013
WHEN: 2:00 pm, Saturday, Nov. 23, 2013
WHO: Actress Darlene Violette as MAE WEST supported by a cast that includes Joanna Bonaro, Dena Tyler, Kimmy Foskett, Sidney Myer, Jeffrey Johns, Anthony DiCarlo, Gary Napoli, Juan Sebastian Cortes, and Jim Gallagher, et al, along with dramatist-journalist LindaAnn Loschiavo.
.
WHAT's ON Friday, Nov. 22: Mae West's "Diamond Lil" — – an adaptation by LindaAnn Loschiavo
.
WHAT's ON Saturday, Nov. 23: Scenes from "Courting Mae West: Sex, Censorship and Secrets" and a discussion of the era's homophobia and the political powers that lined up against Mae West and why.
.
WHAT ELSE: the popular Mae West Raffle
FEE: FREE
RSVP: Jefferson Market Library, T 212-243-4334
URL: http://MaeWest.blogspot.com
Email: maewestdiamondlil(at)gmail(dot)com
SUBWAY: West Fourth St. station via A, C, D, E, F subway
PATH: West Ninth St. station
.
— — — — — Where, When, Who, What — — — — —
— — — — — On-going full-staged performances of "Diamond Lil" — — — — —

• Those who prefer night life will enjoy "Diamond Lil" starring actress Darlene Violette — — and the roisterous cast who brought the Bowery denizens and Suicide Hall's ne'er-do-wells to life — — now onstage with performances at Don't Tell Mama [343 W. 46th Street] on every Sunday evening from October 27th through November 24th, 2013. Performances are followed by the Mae West Raffle.
• Reserve seats by phone: 212-757-0788; RSVP online: http://www.donttellmamanyc.com
• SUBWAY: Times Square station via A, C, D, E, F, N, Q, R subway
— — — — — — — — — —