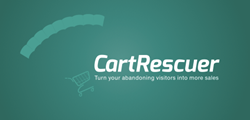 Our Blog gave out 15 free email and popup templates, a $1,500 value.
Orlando, Florida (PRWEB) November 04, 2013
CartRescuer is a new startup with a mission to increase any web site's sales or conversions. Christian Souza, one of the co-founders, started the company because he loved taking any web site and optimizing them to increase sales. While developing CartRescuer, Christian documented his journey from the idea, the prototype, launching, marketing, and what worked and what didn't. Christian posted his experience in his blog so other entrepreneurs can read about CartRescuer's journey.
CartRescuer took three important services when it comes to conversion optimization and increasing sales. The first service, Surveys. Surveying is important to understanding your customers pain points. The second service is Dynamic Offers (popups). With Dynamic Offers, CartRescuer can display relevant popups, embedded inline content, header and footer bars, all based on customer profiling and user behavior. The final service is Dynamic offers, better known as cart abandonment. As users abandon your site, CartRescuer detects the abandonment and fires scheduled targeted emails to recover abandoned visitors. All three services can be A/B tested and measured for ROI. The best part, all three services cost one monthly fee starting at $49 a month.
"We really set it out to change the industry," says Souza. "But it hasn't been easy, and we wanted to share our experience with everyone." CartRescuer's blog details the challenges of finding the right developer, raising money, launching and marketing. "One thing that has really worked for us is offering free stuff. Our blog gave out 15 free email and popup templates, a $1,500 value," says Souza.
CartRescuer is currently accepting new customers; visit http://cartescuer.com for pricing and plans. You can also read about CartRescuer's journey to launch on their blog and to get your free design templates.