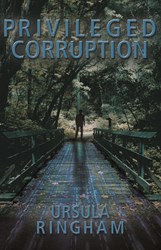 ...intriguing and suspenseful novel that fans of techo-thrillers will love. The plot, characters, and technical details are believable and page-turning. Fans of Michael Crichton will be thrilled. —W. Craig Reed, bestselling author of Red November
Palo Alto, CA (PRWEB) November 04, 2013
In Silicon Valley, product ideas are stolen every day. Hundreds of millions of dollars of intellectual property and countless hours of R&D lost in a millisecond. It's a high risk, a high reward business, but is it worth risking your life?
As an alumni of some of the world's largest tech companies including Apple and Adobe, the subject matter is close to Ringham's heart. With a background in Developer Relations, she spent a decade helping start-ups and strategic accounts bring products to market. Privileged Corruption marks her debut into the literary world and the book is available on Amazon, iBooks, and Create Space.
The story centers around Kate Crawford, a young woman about to make it big as one of Silicon Valley's overnight millionaires. With her hands on a secret new product that will catapult software company Obsidian to rock start status, Kate's future seems set until assigned a new account the week before the IPO. That new account, Fortunato, has a product nearly identical to the one she is about to launch. Exasperating the situation is Fortunato's Logan Sinclair, heir to one of the biggest fortunes in Silicon Valley and the man suspected of having a role in the death of Kate's older sister 20 years earlier.
With millions of dollars on the line, will Kate untangle the web of lies surrounding her sister's death and her own career? A free preview of the novel is available at Ringham's website.
About Ursula Ringham
Ursula Ringham is currently a high-tech consultant by day, author by night, and a wife and mother of two. She grew up in the Silicon Valley, specifically Palo Alto, Calif., in a family heavily immersed in real estate development and local politics. At age 20, she took a summer job with a then small software company, Adobe Systems, Inc. A graduate of the University of California at Davis with a degree in International Relations, she eventually ended up working in Apple's Developer Relations group. Today, she stays engaged in the high-tech industry as a consultant and enjoys writing and developing fiction in her free time.
Ursula is available for interviews, appearances, and blog tours. For more information, visit her website, watch the book trailer, follow her on Twitter, Facebook, or send an email to ursula(at)ursularingham(dot)com.