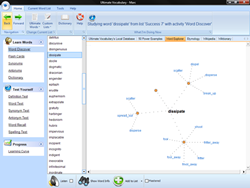 ...each teacher can become more sensitive to what kind of approaches, methodologies, and tools work with ESL learners by learning new languages themselves.
New York City, NY (PRWEB) November 12, 2013
The Ultimate Vocabulary™ blog editor has revealed through an interview with Kirsten Kukulski of the website englishisapieceofcake.com, that learning a new language helps teachers and other educators better understand what approaches and techniques to implement when teaching language skills to ESL learners.
Kirsten Kukulski, an ESL teacher who's travelled around the world teaching young students English, told the Ultimate Vocabulary™ blog editor recently that each teacher can become more sensitive to what kind of approaches, methodologies, and tools work with ESL learners by learning new languages themselves. Based on her own experience in learning new languages as an adult, Kukulski said, her exposure and practice with other languages is what enabled her to become aware of effective techniques when it comes to teaching vocabulary and grammar. In addition, she noted, this personal experience allowed her to see for herself whether long-held English teaching methodologies do hold water and prove effective for ESL students.
eReflect's editor commented in this Ultimate Vocabulary™ blog post that such experiences are valuable for educators as they tend to sharpen their perception of what works and what doesn't in an ESL setting. What was also thoroughly discussed in Kukulski's interview is the significance of revisions (reviews) and consistent practicing. As Kukulski explained to the Ultimate Vocabulary™ blog editor, improving vocabulary is not a one-time thing. It requires consistent and substantial practice and repetition, in order for a word to be properly mastered at all its levels and possible contexts.
Repetition and frequent revisions are two techniques eReflect recommends for ESL learners who wish to improve their vocabulary efficiently. Frequent review of a word, eReflect states, give a sense of confidence and self-assurance to the learner; the more they practice their vocabulary, the more confident they are in using it in speech and writing.
Another issue raised in the interview with Kukulski was the significance of perseverance and motivation for success. Learning English (and for that matter any other language) can be a daunting and slow process, so these two qualities are necessary to keep the learner going. These insights combined make up for a promising approach to learning English for all ESL learners, the eReflect editor concluded.
For more information on how you can benefit from Ultimate Vocabulary, please visit its official website, http://www.ultimatevocabulary.com.
About Ultimate Vocabulary™
Ultimate Vocabulary provides a proven and powerful platform, built to improve anyone's vocabulary.
The interactive self-improvement system provides more learning tools than any other program on the market, as well as more information on words.
The Ultimate Vocabulary software provides each and every user with a personal computer tutor. Providing a step-by-step guide to learning a powerful vocabulary, Ultimate Vocabulary is the learning tool everyone can benefit from.
Of course, the software is also backed by eReflect's iron-clad money back guarantee.