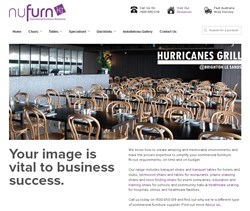 Sydney, Australia (PRWEB) November 06, 2013
It's been 5 years since Nufurn last refreshed their company website. With the official launch of their brand new website, this Australian owned commercial furniture company is set to take on the world.
Sydney based Nufurn Pty Ltd, is an Australian owned commercial furniture manufacturer, distributor and exporter that specializes in product for the hospitality, healthcare and education segments. They have been established since 1996 and have had a website for just as long. Despite the site undergoing several upgrades over the years, it has always been based on an html platform. That is until now. Gavin Krawchuk, Managing Director of Nufurn explains further, "A lot has changed over the last few years in regards to online technology and also the way that people access and therefore experience the online world. We recognized this and have spent the last 12 months building a brand new site from the ground up. We have used a responsive platform to give people an amazing experience whether they are on a desktop computer, tablet or mobile phone."
Prior to rebuilding the site Nufurn, undertook a survey with their customers to gain insights into what they felt would be beneficial to them. While it may seem obvious now, the 3 most important attributes were simplicity and ease of navigation, high quality images and a website that is kept up to date with new products. Gavin Krawchuk noted, "We have addressed all of our customer's requirements and much more. Whether our customers know what they need such as banquet chairs, restaurant chairs or they are simply having a browse, we can guarantee them a great online experience."
To find out more, check out http://www.nufurn.com.au/.