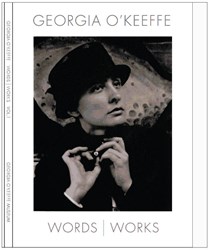 Santa Fe, New Mexico (PRWEB) November 05, 2013
The Georgia O'Keeffe Museum is pleased to announce the Holiday 2013 Gift guide featuring specially curated gift selections from the Georgia O'Keeffe Museum Store. The 2013 Holiday Gift Guide includes colorful and creative gifts inspired by Miss O'Keeffe's words and iconic images including many unique and handmade items. From stocking stuffers to truly one-of-a-kind gifts, the Georgia O'Keeffe Museum Store has something for everyone from the art novice to fans of Georgia O'Keeffe alike. Shoppers are invited to purchase with ease from the Museum Store's website at http://www.okeeffestore.org/.
Words|Works is an intimate volume of quotes from Georgia O'Keeffe that combines the artist's most poignant and memorable words with her iconic works of art. This stocking stuffer-sized book proves O'Keeffe expressed herself beautifully in paint but was also an eloquent writer. "Words|Works" is a unique gift that will inspire everyone on your list. $9.95/Member Price $8.47
Sterling Silver Sunflower Pin by Santa Fe artist Catherine Maziere. This beautiful sterling silver sunflower can be worn as a pin or a pendant. Each sunflower is uniquely handmade and measures approximately three inches across. $265.00/Member price $225.25
2014 Georgia O'Keeffe In New Mexico 12" Wall Calendar Printed exclusively for the Museum, the 2014 wall calendar features twelve unique images. Each month's image corresponds with the Museum's 2013 exhibition "Georgia O'Keeffe in New Mexico: Architecture, Katsinam, and the Land." $14.00/Member price $11.90
2014 Georgia O'Keeffe Flowers 12" Wall Calendar, The 2014 wall calendar features twelve of O'Keeffe's iconic flower images. $14.00/Member price $11.90
Hand Painted Silk Scarf by Nora Daniel, designed and made exclusively for the Georgia O'Keeffe Museum. These luxurious silk scarves are one-of-a kind, hand-painted, wearable pieces of art. Available in Calla Lily, Red Canna, Bella Donna and Petunia, each unique scarf is signed by the artist. Approximate size: 14.5" x 57". $79.00/Member price $67.15
Modern Nature, Georgia O'Keeffe and Lake George Exhibition Catalog examines the extraordinary body of work O'Keeffe created while at Lake George, from magnified botanical compositions of the flowers and vegetables to a group of remarkable still lives of the apples and pears. $40.00/Member Price $34.00
Seeds of Beauty Flower Seeds contain seeds of the flowers that Georgia O'Keeffe painted. Package contains seeds to grow your own Oriental Poppy, Columbine, Sweet Pea, Sunflower, Hollyhock and Indian Paintbrush. Covers 350 square feet, plant in Spring or Fall. $15.00/Member Price $12.75
To Purchase Gifts from the Georgia O'Keeffe Museum Store:
All items are available for sale in the Museum Store located inside the Georgia O'Keeffe Museum at 217 Johnson Street in Santa Fe, New Mexico. Items are also available in the Store's website: http://www.okeeffestore.org/. For more information, please call +1 505 946 1001.
Your purchase will help the Museum present compelling exhibitions, and provide innovate programming for children, families, and adults. Members of the Museum receive a 15% discount off the regular purchase price on all items.
###
About Georgia O'Keeffe Museum:
The Georgia O'Keeffe Museum is dedicated to the artistic legacy of Georgia O'Keeffe, her life, American modernism, and public engagement. Located in Santa Fe, NM, the Museum's collections, exhibits, research center, publications and education programs contribute to scholarly discourse and serve diverse audiences. The largest single repository of the artist's work in the world, it is the only museum in the world dedicated to an internationally known American woman artist and is the most visited art museum in New Mexico.