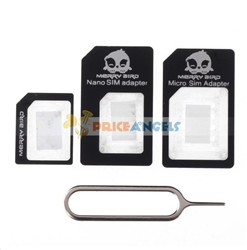 Everything here is perfect for those with a limited budget.
(PRWEB) November 15, 2013
Recently, a popular China electronics wholesale company, PriceAngels.com, has excitedly introduced its exclusive collection of "$0.99 Gadgets." According to a sales manager of the company, the "$0.99 Gadgets" collection includes hundreds of items; each one is of top quality despite the low price.
As a famous electronics supplier in the global market, PriceAngels.com offers many kinds of cool gadgets to facilitate people's life. Its "$0.99 Gadgets" collection has plenty of practical and useful products in it: US/EU plug to AU AC adapter plug, key chain finger lamp, PS2 to USB adapter, charming flower style bracelet, and many more.
PriceAngels.com is a one-stop platform for full-service cool gadgets. All products of the collection are excellent in terms of quality; they are attractive and competitive. Along with cool gadgets, the company provides more than 40,000 items across almost 100 categories. Its best-selling products include Samsung Galaxy cases, EGO batteries, Android 4.0 tablets, Apple accessories, etc.
"I like this adapter very much. It is just what I need. It works perfectly on my notebook. Its size is perfect, making it convenient for me to connect any device with input ps2. I can never find such a wonderful cheap product at a local store. I will certainly recommend this to my friends," a London boy reviews at the website of PriceAngels.com.
About PriceAngels.com
PriceAngels.com has much experience in the wholesale and retail of China electronics. The reason to choose PriceAngels is very simple: PriceAngels offers premium quality cool gadgets at affordable prices, and all their products have free shipping. Moreover, with a perfect online presence, PriceAngels.com is able to serve its clients anywhere in the world. For more details, please view: http://www.priceangels.com.
Follow PriceAngels at:
Facebook: https://www.facebook.com/PriceAngels
Twitter: https://twitter.com/Priceangels2008