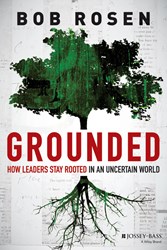 San Francisco, CA (PRWEB) November 14, 2013
"Grounded reminds us how important it is to balance every piece of our lives into one… which becomes our life's work."
—Alan Mulally, CEO, Ford
"Rosen draws from interviews and case studies to present a simple message to leaders: focus on improving yourself before you try to fix your company…Recommended."
—Library Journal
How can leaders stay grounded when everything around them is unstable? Beset by rapid change and challenged by uncertain markets, many of today's business leaders find themselves ill equipped to manage the hazards they face. They must contend with cynical workforces, personal burnout, economic impermanence, and constant volatility. Facing these issues, leaders feel thrust into survival mode, tapping into their natural state of "fight or flight," and habituating to a level of turmoil rarely experienced in our lifetime. This new normal has left many leaders finding themselves poorly served by the prevailing paradigm of corporate leader as icon and hero.
Filling the gap between the leaders we have and the leaders we need, GROUNDED: How Leaders Stay Rooted in an Uncertain World (November 11, 2013; Jossey-Bass) by Bob Rosen, CEO and Founder of Healthy Companies International offers a more human and sustainable model for leadership based on Six Dimensions: physical, emotional, intellectual, social, vocational, and spiritual health.
Arguing that great leadership is not based on concrete actions as much as on the inner qualities of a person, Grounded forces leaders to look at their own values, personalities, and experiences and use those as a basis for honest, effective leadership. Because effective leaders examine not just what they must do, but who they are as people. To do so they must focus on three things: Who we are as human beings; How that drives what we do as leaders; How to develop everyone's leadership potential.
Rosen reveals how leaders at every level can be more self-aware, develop their untapped potential, and drive significantly better results—for themselves, their teams, and their organizations. The book:

Shows readers how to build a personal leadership model that works with their values, goals and capabilities
Features fresh stories from leaders in a variety of organizations including the New York Fire Department, PricewaterhouseCoopers, The Lego Group, and Medstar Health
Gives leaders practical tools to face their toughest challenges with greater skill, confidence, and impact
Rosen provides compelling narratives of leaders who have tapped into a higher purpose, including:
Klaus Kleinfeld, CEO of Alcoa, whose sense of responsible entrepreneurship—driven by his childhood experiences in both East and West Germany—is a hallmark of his leadership style.
Mitch Kosh, Senior Vice President of Human Resources, Polo Ralph Lauren, who helps the growing company stay true to its brand with leadership values rooted in his personal authenticity.
Paula Kerger who found she could better tackle the challenge of her job as President and CEO of the Public Broadcasting Service by also pursuing the personal challenge of a triathlon.
And the CEOs of Procter & Gamble, Ford, Yum! Brands and other admired companies.
All of these leaders show how they have successfully applied the key elements of physical health in their lives so they can inspire others. By developing themselves and mastering the six dimensions, readers will be able to tap into their inner leader and guide their organizations through any challenge. They'll lead confidently, effectively, and humanely.
About the Author: Bob Rosen–trusted CEO advisor, organizational psychologist, and bestselling author–has long been on a mission to transform the world of business, one leader at a time. He founded Healthy Companies International over 20 years ago with the singular goal of helping top executives achieve their leadership potential. Shortly before launching the company, he was awarded a multi-year grant from the MacArthur Foundation for an in-depth study of leadership. Since then, Bob has personally interviewed over 350 CEOs—in 45 countries—in organizations as diverse as Ford, Motorola, Johnson & Johnson, Singapore Airlines, Brinks, Northrop Grumman, Toyota, Citigroup, PepsiCo, ING, and PricewaterhouseCoopers. He has become an advisor to many of these companies.
Bob is a frequent media commentator who has been quoted in the New York Times, Wall Street Journal, Fortune, Bloomberg Businessweek, Financial Times, Time, Chief Executive Magazine, and more. Bob is a bestselling author including The Healthy Company, Leading People, Just Enough Anxiety, Global Literacies, and The Catalyst. He is also in demand as a global keynote speaker with a special focus on personal leadership. Bob graduated from the University of Virginia and subsequently earned a PhD in Clinical Psychology at the University of Pittsburgh. Bob teaches in executive education programs, and has been a longtime faculty member in Psychiatry and Behavioral Sciences at George Washington University's School of Medicine. For more, visit BobRosen.com.