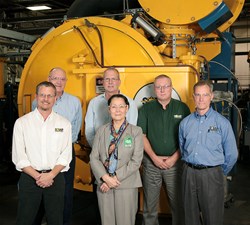 Souderton, PA (PRWEB) November 04, 2013
Dr. Dianne Chong, Ph.D., FASM, recently toured the Solar Atmospheres headquarters in Souderton, PA. Dr. Chong is the Vice President, Materials, Manufacturing, Structures & Support in the Operations & Technology department of Boeing Engineering. Prior to her role as Vice President, Dianne was Director of Materials and Process Technology for Boeing Commercial Airplanes. She is a past President of ASM International 2007-2008, and the recipient of the 2012-13 ASM Liberty Bell Chapter William Hunt Eisenman Award.
Senior executives and sales management from both Solar Atmospheres and Solar Atmospheres of Western Pennsylvania escorted Dr. Chong throughout her tour of Plant "A." "We were honored to host Dr. Chong and give her an in-depth look at our thermal processing operations," says Roger Jones, Corporate President, Solar Atmospheres.
Dr. Chong's visit consisted of an extended tour of Plant "A," lunch, and further discussions about Solar's capabilities. The topics of the discussions included Solar's vacuum carburizing and vacuum gas nitriding processes, annealing services, heat treating of tooling, brazing, sintering and special processing.
About Solar Atmospheres
Solar Atmospheres is the world's largest provider of commercial vacuum heat treating services. Through unmatched technical expertise, equipment, and quality assurance, Solar's thermal processing produces bright, scale-free parts with minimal distortion. For clients requiring an "out-of-the ordinary" application, an in-house R&D team of metallurgists and scientists develop innovative, custom process solutions. Serving over 18 markets, Solar's state-of-the art services include brazing, carburizing and nitriding. With over 50 furnaces ranging from lab-sized to the world's largest commercial vacuum furnace, Solar can efficiently handle any size job. Headquartered near Philadelphia, Pennsylvania, Solar also operates plants near Pittsburgh, Pennsylvania and in Fontana, California. Please visit http://www.solaratm.com for more information.
About ASM
ASM International serves materials professionals, nontechnical personnel, and managers worldwide by providing high-quality materials information, education and training, networking opportunities, and professional development resources in cost-effective and user-friendly formats. ASM is where materials users, producers, and manufacturers converge to do business.
###