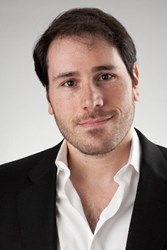 Greensboro, NC (PRWEB) November 04, 2013
Market America | SHOP.COM Vice President of Mobile and Social Products Steve Ashley is among Profile Magazine's latest business profiles, as he discusses the role mobile technology will play in the future of the retail industry.
In the interview, part of the publication's quarterly issue, Ashley highlights the measurable successes of Market America | SHOP.COM's mobile strategy and how versatility – thanks to the foresight of Ashley and the rest of the company's executive team – has positioned Market America | SHOP.COM for future growth.
Profile Magazine showcases the people and companies shaping American business. The publication reaches the key decision makers and executives calling the shots at America's biggest companies, with more than half its readership consisting of individuals in the highest level of executive offices.
In addition to Ashley, Profile Magazine's current issue profiles other high-ranking and successful executives, including Ford Vice President & Treasurer Neil Schloss, Aerogroup International Senior Vice President Linda Vogel, Newegg Senior Vice President of Corporate Development Lee Cheng, and President of Arby's Restaurant Group Inc. Hala Moddelmog.
"That Profile Magazine would showcase not only Market America | SHOP.COM, but the company's growth through mobile technology, is a testament to the work our mobile team does each and every day," Ashley said. "I'm humbled by the acknowledgement from Profile Magazine, and excited about the advancements we're making on the mobile platform."
Added Market America | SHOP.COM President and CEO JR Ridinger: "Steve is a true asset to our corporate team and has been with our company since its inception – so it's nice to see publications like Profile Magazine take notice of his incredible leadership and the success he's helped create for our company."
This is just the latest acknowledgement the company and its leaders have garnered concerning its presence in the tech sector. Recently, Internet Retailer named Market America | SHOP.COM the fastest-growing mobile commerce retailer in its recent 2014 Mobile 500 ratings.
Read Steve Ashley's interview with Profile Magazine here: http://profilemagazine.com/2013/market-america/
About Market America, Inc. & SHOP.COM
Market America, Inc. is a product brokerage and Internet marketing company that specializes in One-to-One Marketing. Its mission is to provide a robust business system for entrepreneurs, while providing consumers a better way to shop. Headquartered in Greensboro, NC, the company was founded in 1992 by President and CEO JR Ridinger and has generated $4.3 billion in accumulated sales. Market America employs nearly 700 people globally with operations in the United States, Canada, Taiwan, Hong Kong, Australia, United Kingdom and Mexico. Through the company's shopping website, SHOP.COM, consumers have access to over 40 million products, including Market America exclusive brands and thousands of top retail brands. By combining Market America's entrepreneurial business model with SHOP.COM's powerful comparative shopping engine, Cashback program, Hot Deals, social shopping integration and countless other features, the company has become the ultimate online shopping destination.
For more information:
United States: http://www.marketamerica.com or http://www.SHOP.COM
Mexico: http://www.marketamerica.mx or http://www.MX.SHOP.COM
Canada: http://www.marketamerica.com or http://www.CA.SHOP.COM
About Profile Magazine
Profile magazine is a print and digital publication that identifies and promotes innovation in prominent American industries. The publication strives to give its readers an insightful glimpse into an ever-changing business landscape through eclectic coverage and relevant dialogue.
As a media advocate for both the established and the cutting edge, Profile provides a unique forum where business leaders from all walks of life and at every level of experience can share their know-how with fellow entrepreneurs while gaining exposure to potential clients.
Originally conceived in print, Profile is also available online and in iPad edition, which can be downloaded from the Apple App Store.
For more information:
http://www.profilemagazine.com
###