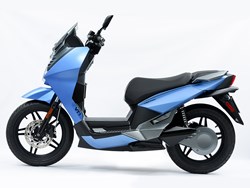 The Vectrix VT-1 is remarkable by design. - Brian Buccella, president of Vectrix
Sarasota, Florida (PRWEB) November 05, 2013
In collaboration with the award winning EV manufacturer Vectrix, the ROBRADY team has designed and developed a new offering that is a striking combination of both beauty and purpose in two-wheel electric transportation. The "VT-1" comes complete with a clean new ROBRADY aesthetic, interchangeable lithium batteries for fast swaps or remote charging, plug and play custom storage options, animated LCD instrumentation and a fleet variant that includes a removable rear end for extreme storage.
"The Vectrix VT-1 is remarkable by design," said Brian Buccella, President of Vectrix.
ROBRADY's design work began at the conversation level and quickly proceeded through concept imagery and then onto full size clay modeling. Balancing the various technologies (many developing in parallel with the vehicle itself), the ergonomics that span various rider and passenger sizes and manufacturability were all in constant play as the new aesthetic was born.
ROBRADY's design thinking for the new Vectrix is all about "humanizing technology". The performance is breathtaking with a top speed of 62MPH and a range up to 55 miles. Specific areas of design interest are:
User-Centric / Interchangeable Modular Lithium Battery System

An unprecedented removable modular battery system with sleek, clean, in-home re-charging unit that empowers urban dwellers with the freedom of EV ownership – no charging station needed. Fleet users can swap out power in seconds and remain on the go, go, go.
Plug and Play Forward Storage System

The customizable, rider facing, forward storage system keeps your gear safe, secure and well organized to your own specifications with hard and soft modular options. This ability to apply personal style and function to your e-scooter storage has global appeal.
LCD GUI Instrumentation

The VT-1's instrumentation display is smart, colorful and animated. It was methodically designed to give the rider the right information at the right time and at the right size. It's also capable of a deep dive into many other facets of the digital scooter giving the operator a full read on all systems safely.
Iconic New LED Headlight

The ultra-clean low and high LED beams are framed by two LED DRL (Daylight Running Light) light pipes that complete the progressive headlight design. The new light is aesthetically tied to the front aesthetic with jewelry-like design cues.
Integrated Fleet (Re) configuration

The VT-1 design strategically considered the needs of commercial users into its multipurpose platform. For fleet users, the fully modular storage system is designed to cater to the increasing demands of the global fleet market and can be easily reconfigured as often as needed.
EICMA (Esposizione Internazionale Ciclo Motociclo e Accessori) is the largest tradeshow of the two-wheeled industry in the world. Drawing over a half-million visitors each year, EICMA is open to the media and business customers Tuesday, Nov. 5, and Wed., November 6, 2013. The show opens to the public Thursday, Nov. 7, and runs through Sunday, Nov. 10, 2013.
Vectrix began in 1996 with a focus on developing personal electric vehicles that provided clean, fun and reliable transportation to consumers. Vectrix provides globally responsible zero-emissions electric vehicles that are environmentally friendly and provide the "freedom of the road" sensation. With transportation platforms for personal urban transportation and commercial usage for law enforcement/security and parcel/scootergo delivery, Vectrix has your transportation essentials covered. Vectrix offers professional and private consumers an expanding range of clean, energy efficient vehicles, including VT-1, VX-1, VX-2 and ES-3. The Vectrix VX-1 and VX-2 were named European "e-Scooter of the Year" by CleanWeek 2020. Vectrix has global headquarters in New Bedford, Mass., and corporate offices in Wroclaw, Poland. As a preferred supplier for Daimler, Vectrix is committed to manufacturing quality products for consumers. For more information on Vectrix, visit vectrix.com.
ROBRADY design is a multi-disciplined product design and development studio that offers its multinational client base—including Vectrix, General Electric, Mercedes‐Benz, Office Depot, Parker Hannifin, AT&T, Textron, Caterpillar, Merial and Segway—progressive industrial design, mechanical design and engineering, graphics /packaging / GUI / web and ecommerce design, market research, brand and retail development, complete rapid prototyping and production program management. ROBRADY design stresses comprehensive speed‐to‐market product solutions from start-up to Fortune 100 by collaborating to identify the greatest areas of opportunity, producing innovative designs that deliver profitable results. ROBRADY delivers design, production and capital solutions to their clients in support of their research to reality philosophy.