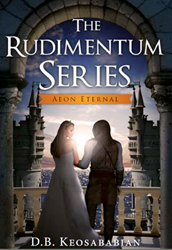 Imagination leads to the infinite with LOVE as imagination's guiding energy toward triumph.
Los Angeles, CA (PRWEB) November 19, 2013
D. B. Keosababian, diagnosed as autistic after a nightmarish depression and confusing childhood, discovered his ability to mesmerize readers with his first novel, "The Rudimentum Series: Aeon Eternal." Keosababian uses his many agonizing human experiences to pull readers into each pivotal sensual, existential, and active movement within this complexly interwoven drama of five worlds. On Dr. Carol Francis Talk Radio, D. B. Keosababian explores how autism, depression, agonies of psychotic moments, suicidal fears, and close encounters with encroaching death, inspires the triumphant dramas, loves and paradoxes of his first book in "The Rudimentum Series: Aeon Eternal."
Psychologists, educators, health professionals and parents constantly seek to discover the formulas for individuals overcoming adversity. D. B. Keosababian is clearly one of these amazing outliers who uses his "disability" and difficult past to create intriguing fiction for multitudes to enjoy.
Malcolm Caldwell's newest book, "David and Goliath: Underdogs, Misfits, and the Art of Battling Giants" and his previous book "Outliers: The Story of Success," each ponder how individuals overcome adversity in a manner that grooms their success and power. D. B. Keosababian is such an individual who grappled painfully with autism and then rose out of such turmoil to become an incredibly articulate and emotionally sophisticated novelist of fantasy and adventure.
In recognition of such excellence, talent and ascension above adversity, and in recognition of a delightfully entertaining and compelling novel, Dr. Carol Francis Talk Radio has designated D. B. Keosababian's first novel, "The Rudimentum Series: Aeon Eternal" #1 Fantasy Novel of 2013.
D. B. Keosababian can be reached for interviews and comments at masterofnaught863(at)gmail(dot)com or his blog: TheGiverofWords.wordpress.com.
D. B. Keosababian's book "The Rudimentum Series: Aeon Eternal" can be purchased through Amazon at http://www.amazon.com/The-Rudimentum-Series-D-B-Keosababian/dp/1627467297/ref=sr_1_1?ie=UTF8&qid=1383602533&sr=8-1&keywords=keosababian.
ISBN-10: 1627467297
ISBN-13: 978-1627467292
D. B. Keosababian briefly describes his newest book:
"The Rudimentum Series: Aeon Eternal is a fantasy/adventure with romance and drama involving mythical creatures, fantastical philosophies, in depth character development and all the action one would expect from such a novel as this. The Rudimentum Series: Aeon Eternal is the beginning of an entire five or possibly six part series, depending on the flow of my ideas. The setting is that of a world called Creacia, composed of five continents (of what is thus far known to the indigenous inhabitants) and a vast expanse of water. The main character's name is Arsum who becomes shipwrecked at the very start of the novel. The story follows his steps as he is obliged to make a decision which will either incite a worldwide war, or abandon his true love to another man yet maintain the ecumenical peace. Other characters are introduced and creatures such as the Angellus take a large role in the timeline of the story. The Angellus are seemingly divine creatures comprised of the four base elements: water/ice, earth, fire, and air."
Dr. Carol Francis, Clinical Psychologist in the Los Angeles Area, and host for the Dr. Carol Francis Talk Radio Show, can be reached for private consultations at 310-543-1824 and the production team can be reached at 310-528-4724 or through DrCarolFrancisTalkRadio.com.