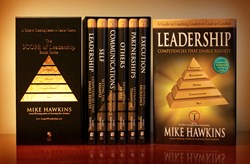 Ideal Gift for the Business Executive Who Has It All
Dallas, Texas (PRWEB) December 03, 2013
Brown Books Publishing Group invites you to their "Holiday Reading Roundup 2013" for the business executive..
Need an ideal gift for business executive who has it all? Try the latest books on leadership, and business innovation:
Now available is the "SCOPE of Leadership" six-book series, written by seasoned executive coach Mike Hawkins, and packaged in a stunning copper-embossed black Kevlar executive case, sure to look impressive on any executives desk, credenza, or book shelf.
Hawkins, combines his latest insights with timeless principles into a practical guide for developing leadership competencies that deliver results.
Next up, "Hardheaded & Softhearted: Lessons from the Boardroom to the Break Room" by co-authors Rick Belluzzo & Krish Dhanam. Together Belluzzo and Dhanam offer readers what they call "a leadership primer to connect the head and the heart."
Their twenty-one "Principles of Success: Lessons from the Boardroom to the Break Room," featured at the back of the book, is the result of their combined experience with companies, consolidating their wisdom in capsule form: where IQ meets EQ, quality of life results.
Business innovator, Cameron J. McConnell, reveals the keys to success inside his new book "Build to Prosper: Secrets for Sustained Profitability" sharing his Business Methodology Method (BMM), a ten-step business plan tool that for thirty-five years has proved consistently to help business owners build their business.
Books are available online and in bookstores
About Brown Books Publishing Group
Founded by Milli Brown in 1994, Brown Books Publishing Group is a full-service, independent publisher of high-quality books across all genres, from non-fiction to fiction. Committed to producing award-winning books for authors who choose to retain the rights to their intellectual property, Brown Books publishes more than one hundred titles a year and has won numerous, prestigious awards including the Writers Digest Grand Prize, Mom's Choice Award, Foreword Book of the Year, Gold Ink Award, Axiom Business Book Award and many more. Brown Books authors have appeared on programs such as Piers Morgan Live, Oprah, the Today Show, FOX News, Face the Nation, CNN, and BBC News. They have been featured in publications such as USA Today, Publishers Weekly, and the New York Times. In addition, they have been guests on NPR programming, including The Diane Rehm Show, Morning Edition, The Takeaway, and Tell Me More.
To learn more, visit:http://www.brownbooks.com.
# # #