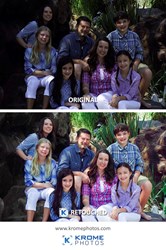 At Krome, we ensure those iPhone images are as perfect as the memories themselves. - Eduardo Llach of Krome Photos
San Francisco, CA (PRWEB) November 05, 2013
Identifying the right precious memory for a holiday card often feels as elusive as capturing lightning in a bottle, but this year, the process just got a lot easier. In fact, you don't even have to hire a professional photographer to do it right, because now the optimal family photo may already be on your smartphone, thanks to one simple but innovative app.
Krome Photos is a completely new class of mobile offering and the only service available for professional retouching via the iPhone. The Krome app can be downloaded for free from the Apple App Store onto your phone. Its elegance comes from the fact that it simply connects your important mobile phone photos directly to real human retouching professionals with just a tap of the screen. Prices start as low as 30 cents for simple enhancements and range to $4.99 for more advanced retouching or image editing. To make it easy for anyone to give Krome a try, the company is offering $10 in free credit for first time users. Their pros can fix the composition and skin tones in your image, remove someone or something in the background that is distracting, fix or even artistically enhance certain colors, and more, all so you can ensure the best image before going to print your holiday cards. All enhanced or retouched images are backed up online and can be seamlessly downloaded for use on the family holiday card.
"In a recent survey, we found that most people are disappointed with the pictures they take, noting that only 8.7% of respondents thought their images were 'good enough,'" commented Eduardo Llach of Krome Photos. "At Krome, we ensure those images are as perfect as the memories themselves."
To help us all capture the best holiday moments Llach shared some key tips for turning camera phone snapshots into memorable holiday card images:
1. Think in color. Fun colored accessories can make for a playful image but everyone wearing a similar tone of blue, for example, will help unify the image. Ask the editor to further push the color saturation of these colors during digital enhancing of the image so they have even more of a creative effect. Or, if someone forgot to coordinate their shirt, your editor can help change the color for you!
2. Catch them in the act. Capture a moment in time like running down a trail, hugging or kissing siblings, blowing bubbles, hanging around with the family pet, or cozying up on a chair. Try asking the editor to slightly blur the background so the scene looks more magical.
3. Location matters…or not. A backdrop of a front door, textured wall, beachscape, grassy field, tree bark, may help set a nice scene but these days your own couch is a studio setting because backgrounds can magically be removed and replaced with a simple color in retouching or cut out using tight cropping when enhanced. Ask the editor to remove a distracting item or even replace the background with a simple neutral color like a studio shot.
4. Don't forget the props. A keepsake memory of a favorite toy, dress up outfit, a candy cane, or even pet will be something you'll look back on with fond memories and communicate a lot to distant relatives. An editor can capture close-ups of these images using cropping techniques during editing so you can use it as a complimentary photo on the back of the card.
5. Lighting sets a mood. Gone are the days when a portrait has to have studio lights shining on a subject. You can just catch the perfect moment and let the photo editor fix unwanted side effects of light, such as shine, uneven skin tones, and shadows.
So let your creativity flow, show friends and family how great 2013 was, and this year, you may have the Krome mobile app to thank for perfecting your holiday memories.