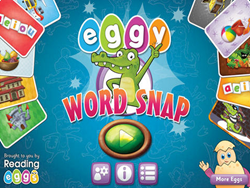 Reading Eggs has an expanding collection of apps that teach children reading, vocabulary, and math skills
Los Angeles, California (PRWEB) November 05, 2013
Reading Eggs has launched its new Eggy Word SNAP app for the iPad. Suitable for children aged 3+, this exciting new app includes 9 decks of virtual flashcards that teach children reading skills and visual recall of 180 key words while they play.
The app features a variety of play modes, including Flashcards, Single Player and Multiplayer – where up to four players can play against each other. Children have fun developing their vocabulary by matching words to words, pictures and audio.
Each deck of cards cover essential vocabulary words for 9 topics: Short-vowel words, Long vowel words, Home, Animals, Transport, Fruit and vegetables, the Beach, Castles and Pirates. The app's colorful visuals, catchy music, fun sound effects, and range of exciting rewards keep children motivated to practice their reading skills and develop their vocabulary.
Eggy Word SNAP is available to download from iTunes for $2.99.
About Reading Eggs
Developed by educators with over 25 years of experience, Reading Eggs online lessons instruct children in the five areas crucial to literacy development – phonemic awareness, phonics, vocabulary, fluency and comprehension. Reading Eggs focuses on a core reading curriculum of skills and strategies essential for sustained reading success and is suitable for children aged 3 through 13. Since launching in the United States and Canada in 2011, Reading Eggs has signed on more than 500,000 subscribers and presented more than 15 million lessons in North America.