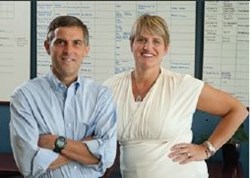 Lambertville, NJ (PRWEB) November 05, 2013
TayganPoint Consulting Group announced today that it was included on the 2013 Inc. 5,000 list and the publication's Top 100 New Jersey Companies list. Both lists recognize the fastest-growing privately held companies and ranks them according to percentage revenue growth.
"Being included on both of these lists is a great honor. Our entrepreneurial spirit and commitment to providing clients with exceptional value has propelled us to new heights," said Joy Taylor, CEO and co-founder of TayganPoint Consulting Group. "We're building on this through smart and strategic growth that will enable us to better serve our clients and continue to help them achieve their business goals," said John Cassimatis, President and co-founder of TayganPoint Consulting Group.
Over the past three years, TayganPoint has grown 176% and the company's annual revenue in 2012 was $14.3 million. TayganPoint ranked 2,122 on the 2013 Inc. 5,000 list and 64 on Inc.'s Top 100 Companies in New Jersey list.
About TayganPoint
Established in 2009, TayganPoint Consulting Group is a niche management consulting company that implements strategy and organizational change in life sciences, health care, financial services, and energy organizations to improve their efficiency and overall business performance. TayganPoint's team of seasoned process experts has a reputation for hands-on service and deep sector expertise in areas like strategy alignment and execution, process improvement, change management and communication, and program and project management. The company leverages this deep knowledge of its clients' business needs to grow its portfolio, expand into new markets and help clients make strategy happen. For more information on TayganPoint Consulting Group, please visit: http://www.tayganpoint.com.