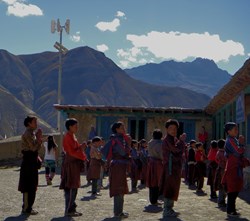 'To be able to help kids learn and be warm -- kids that might have never had the opportunity, makes everything worth it,' Wiston said.
Nashville, TN (PRWEB) November 05, 2013
High above the clouds in the world's most remote region spins a wind turbine and on its blades, written in English and in Nepali, says New Wind. New Wind Energy Solutions, LLC, a Nashville, TN based company specializing in sustainable products, has helped bring power that provides heat and lights by day, and charges laptops at night, for students in a small school in Saldang in Nepal's Dolpa region.
New Wind Energy Solution's President, Stuart Wiston, and his staff, gathered around Wiston's laptop as they watched some of the first images of the company's turbine and solar panels do their magic atop a 30-foot pole high in the Himalayan Mountains. It was met by cheers and high-fives.
"To be able to help kids learn and be warm -- kids that might have never had the opportunity, makes everything worth it," Wiston said.
The project, a vision by Peter Werth of the Werth Family Foundation, took orchestrating many different entities to pull the logistics together, including transporting the turbine, solar panels, batteries, and a 30-foot-steel pole to Nepal – using ships, trucks, helicopters, and small aircraft.
Werth said he felt moved to help after a trip to Nepal. "I found this school about 10 miles from the Tibetan border. It is very, very remote. I was there with some friends of the World Wildlife Fund and we ran into some students that spoke impeccable English."
The next day, Werth visited the school and saw, "the school had absolutely nothing." Werth said when he returned to Connecticut, he worked with high school students with the Connecticut Pre-Engineering Program (CPEP) at an inner-city high school in Hartford to design a system that could provide power to the school.
"I told them I wanted to run six laptops, power up some lights, and a heater, and you are going to use wind and solar energy," Werth said. From there, the students began to research and design a system that could help 80 other students a half a world away. He told the students, "Whatever you choose has to last 20 or 30 years, including the batteries." The equipment, he told them, must be able to withstand not only a harsh climate, but also require little maintenance due to the remote location.
Wiston, who has also spent time trekking in Nepal, holds a special sentiment for the people there. "In all the travels I have made around the world, the people of Nepal are among the kindest. It is an honor to repay their hospitality for the kindness they showed me years ago."
New Wind Energy Solutions, LLC and one of its battery partners, Iron Edison Battery Company, paired up to deliver the right system. "The kids picked New Wind's turbine system and Iron Edison's batteries – which were awesome choices," Werth said.
Transporting the complete system was a challenge, Werth said. "The New Wind system's pole is almost 25 feet long," he said, adding that some of the equipment was transported via helicopter on a sling.
"The villagers all helped install it – they used huge rocks for the footings because up there, you can get 100-mile-an-hour winds," he said. "It is up and running and now we are thinking about the next project," Werth said, adding he is considering seven more systems in other villages in Nepal in the near future.
Wiston said the system the students chose was the New Wind 1kW Firefly vertical axis wind turbine and solar hybrid. "It is engineered to withstand winds of 120 miles per hour and temperatures of minus 30 degrees Fahrenheit. It is a very robust system that was the perfect fit for the unique situation of both a harsh climate and its remote location."
"The hybrid system is basically a smaller version of our Total Telecom Solution that helps power remote telecommunication towers with the exception of the backup generator," Wiston said.
Brandon Williams, CEO of Iron Edison Battery Company based out of Lakewood, CO, provided the battery backup components, and said he understood the logistical obstacles a project like this entails, but was happy to be an integral part of the project. "Iron Edison batteries are the longest lasting in the industry. They last over 25 years, which is important when you are powering a school in a very remote location," Williams said.
"Iron Edison has really enjoyed the opportunity to work with Peter Werth and New Wind and we feel honored to have been able to assist in this project. Bringing Electricity to an area where there is none can bring a huge change in people's lives, especially the students at the school."
Wiston's feelings mirrored that of Williams. "It is projects like this that give us real joy here at New Wind. We eagerly waited for photos and updates. When Peter sent us the video, we were all pretty charged up," Wiston said. "Our wind and solar hybrid is perfect for remote locations and how much more remote can you get than the mountains of Nepal? It is fantastic and we are proud it is our system helping this school."
In fact, philanthropreneurism is one of New Wind's core values. "We are also working on a project to help feed thousands of people in Haiti," Wiston said. "Helping not just the planet, but also the people that rely of the planet's resources, is the very essence of sustainability."
For more information on New Wind Energy Solutions, LLC and its sister company, Vet Net Zero, LLC, visit their website at http://www.newwind.us, or contact them at 615-730-5492.