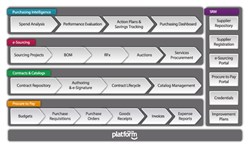 The Ivalua Technology promises to provide Whirlpool with advanced capabilities & efficiencies that support our efforts to drive Global standardized processes & integrated end to end solutions that will improve experience.
Redwood City, CA (PRWEB) November 07, 2013
Almost 400 purchasing professionals congregated at "Ivalua On Air", an event where Ivalua, one of the leading global spend management software vendors in Europe and the United States, unveiled its new version of Ivalua Buyer V8. This upgraded version is a complete software suite entirely dedicated to purchasing professionals, designed to support the entire buying process. From planning and analysis of spend, through collaborative management of sourcing and to a complete mastery of the supply chain, Ivalua Buyer V8 optimizes the purchasing processes and effectively handles spend management, with an even faster return on investment (ROI).
Four great innovations for a richer, collaborative and flexible tool:
1 – Redesigned Interface
The new Ivalua Buyer V8 is a user friendly solution which integrates the best current software practices including: shortcut access to essential functions, streamlined design, complete configurability of the graphical interface, and many innovations that allow users a shorter learning curve as well as a durable adoption of their daily work tool.
2 - Administrative and configurative autonomy
Ivalua Buyer V8 builds on V7′s success by offering even more powerful configuration capabilities. Most configuration functions are now accessible in a standard design mode and thus do not require specific skills in IT development anymore. Purchasing Managers are thereby assured that their platform will evolve quickly and at lesser cost with Ivalua Buyer adapting continuously to their business-specific requirements.
Most notable additions:
Configuration of advanced business rules at field level of the application
New quick setup functions for imports
Enhanced merge field for the creation of standard email forms
Configuration migration between 2 environments
Redesigned Translation import/export Tool
Multiple object reallocation Function
"With Ivalua Buyer V8, we have pushed back the limits of configuration even more, in order to reduce development tasks to a minimum. Our customers can now benefit from the strength of our standard solution that adapts to their specific businesses flawlessly" says David Khuat-Duy, CEO of Ivalua.
3 – Use of the most advanced technologies for increased security:
New connectors to SSO standards (AD, LDAP, PKI, SAML)
Secured exchange protocols (CFT, AS2, …)
Flow Partitioning of Internal and External Rights
SQL user Rights Limitation
4 – Functional enrichments on the whole Ivalua Buyer V8 suite:
Ivalua Buyer V8 includes many functional enhancements throughout its whole solution and through each module specifically.
E-sourcing

New planning management tool
Multi-sourcing Functions
Improvement of the RFI module with a new automatic update of the supplier data file
Redesign of the supplier offer analysis capability
Improvement of the Bidding module (multi-criteria, pre-bid, mass bidding, etc.)
E-Procurement

EDI and cXML Message Exchange Platform
Open Orders
Delivery Notice Management (DNM)
Master mode Services management and CRA follow-up
Redesigned Invoice Input Function
Customizable Accounting Entry Generator
Assignment Task Order
Supplier Relationship Management
Ivalua Buyer V8 now integrates an advanced management system for dealing with supplier documents, as well as a powerful supplier performance evaluation tool and supplier risk assessment tools.

Preferred Suppliers Management
Redesigned supplier legal documents' Management
Supplier Client References Management
Supplier Data Enrichment Campaign Management
Supplier-provided Document conformity Validation
Redesigned Supplier Performance Evaluation Module
Duplicate Supplier data cleanup
Supplier Missing or Incomplete Data Identification Function
Purchasing Decision-Making Process

Enhancement and optimization of the reporting engine
Redesigned Graphical Analyst tool
Dynamic Cross Tables Feature
Enhancement and integration of the request generator in the reporting module
Supplier Evaluation Function Generalized
"The Ivalua Technology promises to provide Whirlpool with advanced capabilities and efficiencies that support our efforts to drive Global standardized processes and integrated end to end solutions that will improve the experience of both Whirlpool associates and our valued supply base." Blaine Hurley, Whirlpool
Availability
All modules offered by Ivalua Buyer V8 are available as of Tuesday October 15, 2013.
About Ivalua:
Founded in January of 2000, Ivalua is currently ranked among the leading worldwide Spend Management solution providers. Successful in both Europe and the US, Ivalua has deployed several hundred projects for large international companies in a wide range of industries. In light of its experience and of its multi-sector expertise, Ivalua continues to support an extremely proactive product innovation policy that centers on bringing its users the greatest value, efficiency and ease of use, day in and day out.
Ivalua Buyer's worldwide success can be summarized in 4 major points:

Full Suite of Solutions for Spend Management: by combining strategic sourcing, transactional functions, supplier relationship and procurement controls, all from within a single, integrated solution.
Flexibility in configuration and customization, allowing Buyer to adapt to clients specific needs without having to involve IT, while also remaining on the standard Ivalua Buyer solution package.
A User Interface acclaimed for its simplicity and effectiveness, which allows a quick start-up and long-term, sustained adoption by its users.
An agile, collaborative implementation method, to not only shorten time frames but also contain overall deployment costs.