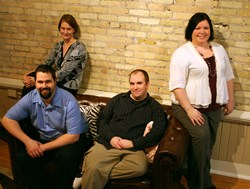 Good creative captures attention but great creative captures both attention and results. - Andrea Koeppel, Principal / Creative Director at Ocreative Design Studio, a creative + interactive agency near Milwaukee, WI
(PRWEB) November 07, 2013
Good creative captures attention but great creative captures both attention and results has been the philosophy of Andrea Koeppel, Principal and Creative Director at Ocreative Design Studio in Oconomowoc. Even when she launched the company in 2003 while eight months pregnant, she was determined to give her clients intelligently designed logos, websites and marketing tools. Her goal was to make her designs work smarter for the brands or companies they represented.
Over the past 10 years, Ocreative Design Studio has achieved more than 20 percent year-over-year growth providing logos, advertising, marketing services, and websites. Koeppel recently moved the company into a larger office space to accommodate hiring new employees. "Our team is our greatest asset and we have very talented designers, marketers, and web developers at Ocreative," adds Andrea. Located on the second floor of a restored, 19th century former school house, the space offers big windows for a bright, cheery atmosphere befitting the innovative work taking place within.
Referrals from satisfied clients and word-of-mouth have been the main drivers of business acquisition to date, with several clients based in Southeastern Wisconsin. Pro bono work for local non-profits has also paid off; particularly the work Ocreative did for TYMEOUT Youth Center a few years back. The pro-bono work there reminded Funeral Service Foundation (FSF) Executive Director Kathy Wisnefski to include Ocreative in the FSF complete rebranding project RFP that Ocreative has recently secured. Other companies on the agency roster include Dorner Mfg. Corp, Waukesha Bearings, Wisconsin Packaging, multiple YMCAs, Craig Berns Salon Spa, Oconomowoc Area Foundation, and City Publications.
To remain up-to-date experts in the fast-moving online and technology spaces, Ocreative invests in professional development and employee training that keeps the Ocreative team flooded with fresh ideas that leverage the latest developments in marketing. Workflow is managed through daily morning meetings that keep the team focused on priorities while also giving them an opportunity to share new tools and trends. "Just having a website isn't enough," says Koeppel. "It needs to be a lead-generating machine that fills the sales pipeline. We have invested in marketing automation tools to improve, not only Ocreative's, but also our clients' marketing and sales efficiency, scalability, and ROI analytics and reporting. We're also giving our clients responsive design so that their content renders perfectly and seamlessly on any device their visitors are using – desktop, mobile, tablet and whatever the future brings." Look for the launch of Ocreative's new website in the coming weeks.
Another tool that Koeppel uses is the psychology of color. "At any stage of a product or brand's life, I can apply color expertise to help businesses utilize color more effectively in their products, packaging, and corporate identities." This past summer Koeppel attended a multi-day color design training program in Washington State at the Eiseman Center for Color Information & Training instructed by America's leading color expert Leatrice Eiseman, the Pantone Color Institute executive director. The professional training certified Andrea as a color consultant based on proven research that shows how color influences human thought process, emotions and physical reactions.
"Having Andrea attend the color class even influenced the paint chosen for our new office," adds Matt Koeppel, Principal and Technical Director at Ocreative. "We're excited to share our new space and the color research behind it during our Open House on November 20."
Ocreative Design Studio will host their Open House on Wednesday, November 20, beginning at 4 p.m. Visit the website to RSVP for the event. There will be refreshments served, and guests will have the opportunity to meet the entire design team, as well as view a gallery of the agency's creative work. The office is located at 521 Westover Street in Oconomowoc, Wisconsin.
# # #