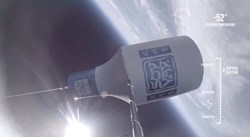 'We were pretty excited to be chosen over NASA for the project.'-David Fredrickson/Founder Figure Plant
Portland, Oregon (PRWEB) November 11, 2013
The mission presented: To build a space capsule—in the shape of a bottle of teriyaki sauce--that can cook chicken while ascending to 105,000 feet in space. The capsule will then need to return to earth intact and be recovered for a public taste test of the marinated "Space Chicken." The launch will take place near Nashville, Tennessee in early October as a promotional stunt. It will require on-board cameras to capture video imagery of the flight for promotional purposes.
Crucial parts of the project include:

research and development of a flameless, cooking system
fabrication of an FAA-acceptable space-capsule and launch rig
chicken cooking tests
launch, re-entry, and recovery calculations and procedures
Ultimately, the Figure Plant team was chosen over NASA for the job due to its ability to provide solutions for every aspect of the complex, high stakes project.
The procedures leading up to and including the launch would be carefully controlled and calculated. The return and recovery would be a slightly different story, however, because during flight, the capsule would encounter extreme temperatures reaching -60 degrees Fahrenheit and volatile, high-wind conditions. Calculations of the touch-down location would have a margin of error of up to 7 miles, making recovery plans challenging.
Unexpected Challenges:
David Fredrickson, founder of Figure Plant, states: "One of the largest challenges presented by the mission was the recovery. The media team needed video data from the on-board cameras immediately after touch-down in order to get content edited and uploaded within an hour of landing. Though very detailed flight trajectory data can be plotted, upper atmospheric weather conditions present a level of variability that make recovery of the capsule less predictable. Additionally, this region of the country has a significant amount of forestation making a tree-top landing highly probable. We knew that such a landing could make recovery of the capsule difficult, causing delays that would pose a serious threat to the success of the project."
The capsule did return under parachute as planned, and did in fact end up landing 40 feet high in a tree on privately owned land populated with goats and rattlesnakes. With the cooperation of the land owner (and no run-ins with his goat herd), the capsule was recovered complete with stunning video content and delicious, fully cooked "Space Chicken."
To view the video of the project, please see this launch video.