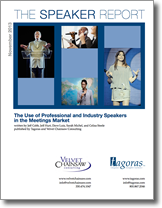 Organizations and attendees are both starting to demand more from their meetings - and their speakers.
Carrboro, NC (PRWEB) November 06, 2013
A new report released by Tagoras and Velvet Chainsaw Consulting provides detailed data and insights on how organizations in meetings market make use of professional speakers and industry experts at their events. Titled "The Speaker Report: The Use of Professional and Industry Speakers in the Meetings Market," the report draws on responses from 175 participants in a survey conducted by Tagoras and Velvet Chainsaw earlier this year. Some of the key findings include:
Organizations are using professional speakers more and spend more on them, but they are also expecting speakers to provide more value beyond the podium – through writing articles, participating in pre-meeting online activities, and recording promotional videos, just to name a few options.
Attendance at meetings is not viewed as dependent on big name speakers. Less than a third (28.3 percent) of survey respondents believed a "big name" speaker was very or extremely important for attracting registrants.
Live video streaming from conferences has gained only a modest foothold: 22.5 percent of the organizations surveyed offer live video streaming of all or some of their keynote sessions at their major meeting, and less than 12 percent do so for their concurrent sessions. These numbers have not changed much since the 2011 version of this same survey.
A range of changes appear to be building steam at major meetings – from fewer sessions, to more dedicated efforts to prepare speakers, to more experimentation with innovative session formats. It remains the case, however, that less than half of organizations measure whether learning actually occurs at their major annual meeting.
"Organizations and attendees are both starting to demand more from their meetings," said Tagoras managing director Celisa Steele. "We view that as a highly positive shift overall, and one that will have significant impact on the role of professional and volunteer speakers in the coming years."
For more information on these highlights as well as a range of other findings can be accessed by downloading a free copy of The Speaker Report at http://www.tagoras.com/catalog/speaker-report.
###
Tagoras provides expert strategy, marketing, and technology guidance to organizations in the business of continuing education and professional development. Its consulting clients have included the American Institute of Public Accountants, the American Physical Therapy Association, the Healthcare Financial Management Association, the National Institute of Governmental Purchasing, the Society of Critical Care Medicine, and Castle Worldwide. Its research publications include Association Learning Management Systems, Association Learning + Technology: State of the Sector, and Association Virtual Events.