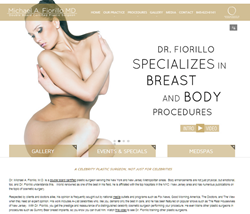 I was approached by Steven Panzella, the President of MD Marketing Experts in April 2013. He asked me if I wanted a Digital Facelift and I was intrigued.
Pearl River, NY (PRWEB) November 14, 2013
Dr. Michael A. Fiorillo knows that being on the cutting edge of technology in the medical field is important and he applies the same idea to his online presence. MD Marketing Experts recently redesigned and rebranded his entire website, multiple niche micro-sites, social media appearance, and even portions of his office environment to create a better atmosphere for his patients.
"I was approached by Steven Panzella, the President of MD Marketing Experts in April 2013. He asked me if I wanted a Digital Facelift and I was intrigued. After several months of his team's hard work I feel I have one of the best branded plastic surgery practices in the country!"
His main plastic surgery website, DrFiorillo.com, received a digital face lift with all new banners, procedure guides, and individual galleries for nearly two dozen surgeries and nonsurgical services he provides. Each guide provides full information, including benefits of why particular procedure may help a person look and feel more confident, as well as the possible risks and recovery times. The galleries feature women and men of all different body shapes so people can better see how a surgery may affect their specific body types.
MD Marketing Experts arranged professional video and photo shoots to introduce his practice and procedures so most pages have a customized video to teach you more about Dr. Fiorillo's process and the experience that led him to becoming the New York Breast and Body Expert. He is one of only four doctors appointed by Sientra to train other plastic surgeons on Gummy Bear breast implant procedures and visitors can now view him in action in his new series of videos.
Dr. Fiorillo is double board certified in plastic and reconstructive surgery and is regularly consulted by the media for his expert opinion. Appearing on shows such as The Doctors, Good Morning America, Fox News, and Real Housewives of New Jersey, he is well-known as the celebrity plastic surgeon. You can view clips of his TV and magazine appearances in a central location in his Media Collection featured on all of his websites.
The main goal of most cosmetic surgeries is to re-gain confidence and look and feel the absolute best. Dr. Fiorillo understands that surgery can be daunting, though, and he is happy to answer any questions that arise throughout the process. He is often on social media sites such as Twitter, Facebook, and Instagram, answering every medical concern or sharing his latest advice or pictures. By connecting with him, patients can keep up with the latest events and specials, sweepstakes, and what he does when he's not in the surgery room.
To see Dr. Fiorillo's website makeovers, visit his plastic surgery site and browse his other recommended websites. And to see his office transformation, including new music and video displays, visit one of his three convenient locations in New York and New Jersey.
Dr. Michael A. Fiorillo
150 South Pearl Street
Pearl River, NY 10965
845-623-6141
http://www.drfiorillo.com
http://www.mdmarketingexperts.com
###