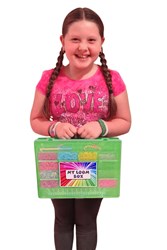 My favorite case for my bracelets, rubber bands, and my loom!
Garfield, NJ (PRWEB) November 07, 2013
Life Made Better is pleased to announce the product debut of "My Loom Box" a colorful, multi sectional container for the popular children's item the "Rainbow Loom™". This shatter-resistant loom box features 19 separate sturdy compartments for all your children's needs. It holds thousands of latex-free rubber bands, hooks, clips, and most importantly, The Rainbow Loom™! Say goodbye to breaking plastic inserts apart, "My Loom Box" by Life Made Better, has successfully created solid pre-molded compartments to fit your loom perfectly! Your child will love bringing My Loom Box with them, wherever they go. It will keep their rubber bands neat and organized, and have a storage place for all of their tools and accessories. This product features a brightly colored handle, and a sturdy loom carrying case. The bracelet your child makes will heighten their creativity at a young age, and help create lasting memories with you.