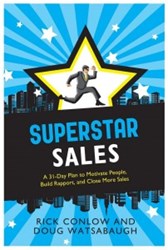 If you increase your learning you will increase your earning.
Minneapolis/St. Paul, Minnesota (PRWEB) November 07, 2013
Rick Conlow and Doug Watsabaugh Co-founders of WCW Partners, Inc. a global business consulting and sales training firm, authored the book, Superstar Sales: A 31 Day Plan to Motivate People, Build Rapport, and Close More Sales. It is published by Career Press. Rick and Doug have consulted with some of the biggest companies in the world and have helped over 250,000 salespeople make more money by improving their sales 22%-218%.
New salespeople and experienced pros who desire career advancement, better sales results, more recognition and a higher income will benefit from this dynamic sales book. They can become their best by absorbing and applying the strategies that are condensed into bite sized content over a 31 day period. Thousands of salespeople have benefited from these sustainable, proven-to-work sales approaches through Rick and Doug's sales seminars and coaching.
The Superstar Sales book is power packed with examples, activities and success stories. Readers will not only learn new skills but be challenged to use them. In addition, short motivational vignettes will encourage and support the reader. Readers will study and apply the concepts at their own time and speed. They will learn how to execute a proven sales model: planning effectively, prospecting effectively, building rapport, focusing on the customer's need, presenting product benefits, handling objections and closing sales more powerfully. Readers will also learn to leverage the greatest closing technique of all time.
Superstar Sales: A 31 Day Plan to Motivate People, Build Rapport, and Close More Sales contains a unique and extensive sales assessment so salespeople can benchmark their sales style while comparing themselves to the top salespeople anywhere. WCW Partners has learned that the best increase their learning to increase their earning.
The information and insight in this valuable book will guide sales professionalism to achieve exceptional results and to earn company recognition and additional income. If any salesperson needs to ramp up his or her game, and wants to prepare for a more successful career, the Superstar Sales book, is a great place to start. Sales management will benefit as well, as the book can be the basis for on-going sales training.
Co-Founders Rick Conlow/CEO and Doug Watsabaugh/COO of WCW Partners have more than 50 years of combined business, sales, training and leadership experience. Their company partners with organizations to increase sales and customer retention, while simultaneously improving employee loyalty, engagement, and productivity. Clients include 3M, Meijer, Rite Aid, Canadian Linen, AmeriPride, Honeywell, Entergy, Nash Finch, Northern Power, Pepsi and others.
For more information, contact 888-313-0514 or check http://www.wcwpartners.com or download this complimentary white paper: http://wcwpartners.com/free-sales-training-article/.