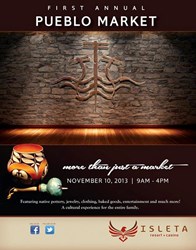 Albuquerque, NM (PRWEB) November 06, 2013
Isleta Resort & Casino will be hosting the First Annual Pueblo Art Market. 130 artists will be featured from all the Pueblos of New Mexico and Texas including Hopi artists from Arizona. The market will take place from 9:00 a.m. - 4:00 p.m. on Sunday, November 10th.
"The art that will be showcased represents the creativity and inspirations of Pueblo history and connection to ancestral wisdom," said Ron Martinez, Art Consultant for Isleta Resort & Casino.
There will be traditional and contemporary art forms including pottery, jewelry, bead work, clothing, painting, woodwork and much more.
Most of the artists who will be selling their work are part of the ongoing display located on the Isleta Resort & Casino property. All of the new artists showing will donate a piece of their work for the permanent collection.
"Isleta Resort & Casino has a fresh look," stated Pamela Gallegos, CEO. "We have been focused on highlighting Pueblo art and culture. Events such as this help us to add to the new appearance. Our new logo and brand mixed with the traditional art work displayed on property is the perfect way to pay respect to our past as we are saying hello to our future."
Traditional native Pueblo food, dancers, artist demonstrations and storytelling will also be highlighted for families interested in more than shopping.