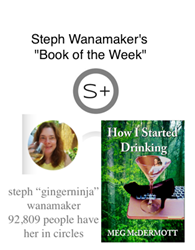 "This is a page-turner right from the title page!"
(PRWEB) November 07, 2013
Steph Wanamaker chooses "How I Started Drinking" by Meg McDermott as her "Book of the Week."
Steph has made a reputation for choosing what's hot, what's not, in popular media, TV shows, and books for her many followers on Google+, Facebook, and Twitter. She discusses upcoming TV specials and series in her fascinating G+ Community, "TV Time: News and Reviews." Her motto describes her authentic reviewing method, "Be yourself. Everyone else is taken."
synaptIQ+ is proud to have their first fiction imprint chosen by Steph.