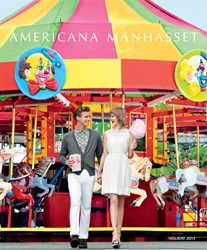 We wanted to capture that nostalgia and magic in the photos, but with a thoroughly modern twist of course.
Manhasset, New York (PRWEB) November 11, 2013
Americana Manhasset debuts its full color 60-page Holiday/Resort Book, "Holiday at the Shore." Holiday and Cruise ready-to-wear, accessories and jewelry from the most luxurious brands in the world are captured in a high-style picture book photographed entirely on the shores of New York and starring top runway and editorial models Lindsey Wixson and RJ King.
The campaign was shot on the steamy boardwalks and gritty amusement parks of Coney Island, at the retro Catalina Beach Club in Atlantic Beach and on the sun-kissed sands of The Rockaways. Photographed, produced and styled by Laspata/DeCaro, the campaign combines the fun, bright energy of these settings with the cool, modern sensibility of the collections.
Americana's Holiday/Resort campaign launched in November, one year after Superstorm Sandy devastated many Northeastern beach towns. This timing inspired Americana's campaign theme. "It seemed particularly appropriate during this holiday season, a time of giving and gratitude, to celebrate the resiliency and timelessness of Northeastern shore culture," says Andrea Sanders, Creative Director for Americana Manhasset. Immediately following the storm, Americana donated $100,000 to the American Red Cross and held a drive at the shopping center to gather supplies for families in need. According to Sanders, "We wanted to send a message of continued support by bringing our business and our attention to the shore one year later." Charles DeCaro adds, "So many people have enduring memories of time spent at the seaside with family and friends, and we wanted to capture that nostalgia and magic in the photos, but with a thoroughly modern twist of course."
Americana's Holiday/Resort Book will be direct-mailed to 130,000-targeted households. The images will be featured in national and regional print ads in publications such as The New York Times and T-Styles magazine and The World Journal newspaper, as well as in various digital media such as nyt.com. The campaign will also be shown prominently throughout the Holiday season on Americana's website, americanamanhasset.com.
In conjunction with the still images, Americana Manhasset will debut a short film, also entitled "Holiday at the Shore." The piece, set to edgy music and starring Lindsey Wixson and RJ King, is haunting and evocative, with the Coney Island amusement park providing an otherworldly backdrop. The full 2-minute piece will appear on Americana's website, with an edited 30-second version featured front and center on the homepage. The short version will also appear in various online ads during the holiday season.
Americana Manhasset is a premier collection of over 60 fine shops, including Hermès, Prada, Louis Vuitton, Gucci, Dior, Hirshleifers, Chanel, London Jewelers, Ralph Lauren, Cartier, Ermenegildo Zegna, Van Cleef & Arpels, Bottega Veneta and more, all within a unique outdoor environment designed by renowned architect Peter Marino and landscape designer Oehme van Sweden. Americana Manhasset offers a complimentary Personal Shopping Service, a remarkable luxury fashion and gift resource. Located on Long Island's beautiful North Shore, Americana Manhasset is 20 miles from Manhattan and 50 miles from the Hamptons.
Follow us on Instagram, Twitter and Facebook at @AmericanaShops. Additional and/or high-resolution images from the 2013 Holiday/Resort campaign are available upon request.