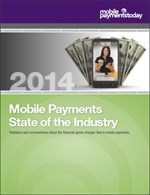 This report is one of our most popular, because it is very practical and very revealing when it comes to up-to-the minute data regarding current consumer preferences...
Louisville, KY (PRWEB) November 07, 2013
The mobile payments industry continues to grow dramatically. Industries from retail and foodservice to finance and marketing are struggling to keep up with the myriad apps and technologies that are driving the smartphone further into the daily transactions of consumer across the globe.
To address the need for clarity and depth, Mobile Payments Today, the leading online provider of news and information about mobile payments and marketing, has released the third edition of its popular Mobile Payments State of the Industry.
This 2014 edition features in-depth surveys of a cross-section of consumers, but also for the first time, direct stakeholders in the space. The report also compares data from the current surveys to responses from years past in order to show trends as they evolve.

How have chosen payment methods changed for mobile phone purchases?
Are consumers warming to the idea of sending money to a friend with a mobile phone?
Has the use of mobile banking apps increased?
How have thoughts changed regarding security?
The 65-page report also features commentaries by several leading mobile payments experts, including Aaron Press, managing director, Point02 Advisors; Steve Gurley, president, Pyrim Technologies; and Greg Coogan, field marketing, North America, Morpho Cards USA.
James Wester, editor emeritus for Mobile Payments Today and current IDG analyst, wrote the executive summary.
Individual jpegs of all charts and graphs are downloadable, to enable purchasers to share them via presentation to their colleagues and clients.
"This report is one of our most popular, because it is very practical and very revealing when it comes to up-to-the minute data regarding current consumer preferences, as well as this year the observations of the professionals developing the industry from the ground up," said Cary Stemle, editor of Mobile Payments Today. "The industry is constantly adding new technology and new uses for it. It's thrilling, but also complex and nuanced for those just getting into it."
More information is available here: http://www.networldmediagroup.com/inc/sdetail/12036/15591.
ABOUT MOBILE PAYMENTS TODAY
MobilePaymentsToday.com is an information resource focusing on mobile payments and marketing projects and technology. Editors cover such topics as banking, retail, restaurants, remittance, apps, online gaming and mobile POS. Its content helps organizations realize the cost savings and operational benefits promised by mobile payments. The site features blogs, news, videos, white papers, webinars, supplier listings, research, product reviews and event info.
ABOUT NETWORLD MEDIA GROUP
Founded in 2000, Networld Media Group is a leading business-to-business media communications company specializing in digital media, associations and events in the mobile, self-service, digital signage, retail, food service and financial services industries. Online properties include ATMmarketplace.com, DigitalSignageToday.com, FastCasual.com, KioskMarketplace.com, MobilePaymentsToday.com, PizzaMarketplace.com, QSRweb.com, RetailCustomerExperience.com, SelfServiceWorld.com and ChurchCentral.com. The company produces executive summits in the fast casual, retail, ATM and mobile payments industries. Its custom media division develops premium content and marketing services for associations such as the ATM Industry Association.
###