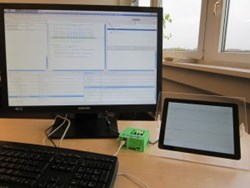 Hamburg, Germany (PRWEB) November 06, 2013
While Qt Enterprise Embedded was still under the Digia R&D name of "Boot to Qt", froglogic Squish sparked interest in supporting automated Qt and Qt Quick GUI testing to also work with the Qt Enterprise Embedded development environment and the Boot to Qt Software Stack on embedded Android.
At Qt Developer Days Berlin in early October this year, froglogic demonstrated an initial version of the automated Squish GUI Tester running a continuous, automated Squish test of a Qt Quick application on a Qt Enterprise Embedded device controlled from a desktop PC.
froglogic will be present at Qt Developer Days in San Francisco (Nov 6-8) where attendees can see Squish in action, join a Squish training class or attend talks on automated Qt & Qt Quick GUI testing with Squish on desktop, embedded and mobile platforms.
Register for Qt Developer Days 2013 in San Francisco: http://www.qtdeveloperdays.com/northamerica.
More about Squish for automated UI testing of Qt Embedded Enterprise: http://blog.qt.digia.com/blog/2013/11/06/automate-testing-of-your-qt-enterprise-embedded-application-with-froglogic-squish/.
Get a free and fully supported trial of Squish today: http://www.froglogic.com/evaluate.
About froglogic
froglogic GmbH is a software company based in Hamburg, Germany with additional offices in the USA with over 3,000 customers world-wide. froglogic is famous for its automated testing suite Squish with its flagship product Squish GUI Tester, the market-leading automated testing tool for GUI applications based on Qt, Java AWT/Swing, SWT/RCP and JavaFX, Mac OS X Carbon/Cocoa, Windows MFC, .NET and WPF, iOS Cocoa Touch, Android and for HTML/Ajax/Flex-based web applications running in a variety of web browsers. In addition, froglogic's offering includes the professional, cross-platform C and C++ Code Coverage tool Squish Coco. More about froglogic is at http://www.froglogic.com.