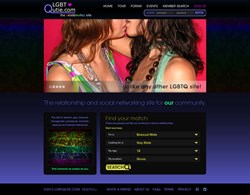 Our primary goal is to enable LGBTQ individuals to find their ideal romantic partner. - Jordan Weiss (co-founder)
New York, NY (PRWEB) November 07, 2013
Beebop Enterprises Inc. is excited to announce the official launch of http://www.LGBTQutie.com, a dating and social networking site for those who identify as lesbian, gay, bisexual, transgender, pansexual, intersex, or romantic asexual that are in search of a monogamous relationship.
As members of the LGBTQ community, co-founders Rachel Kimelman and Jordan Weiss have both experienced frustration with the lack of LGBTQ dating sites that focus on long-term romantic relationships. "Our primary goal is to enable LGBTQ individuals to find their ideal romantic partner," states Weiss, who continues, "There are plenty of options out there for those looking to casually hook-up, but there are not many that offer the community as a whole the chance at finding love."
Membership to http://www.LGBTQutie.com will be based on the site's "Relationship Readiness Quiz" which the duo created to help gauge a potential member's relationship intent. Once approved, members are encouraged to fill out the "LGBTQuestionnaire" which identifies essential and relevant needs while looking for a partner within the LGBTQ community. Members of http://www.lgbtqutie.com will be able to choose from a free or premium monthly membership. Both membership levels include the ability to search and view profiles, view and create user-generated events, complete and view others' answers to the "LGBTQuestionnaire" and much more. Premium membership includes the ability to see who has viewed their profile, instant messaging, and the ability to perform advanced searches as well as other exclusive features.
LGBTQutie.com will also allow for free user-generated community event posts and will provide the opportunity for LGBTQ friendly businesses to connect with their core group of consumers through sponsored posts. "We have a vision that our site will become the go-to network for the entire LGBTQ community. It will allow those in our community to connect with one another in ways they have never been able to in the past" says Kimelman.
The launch of http://www.lgbtqutie.com is currently focused in New York, New Jersey and Connecticut with expansion to other states and regions scheduled for the near future. For more information or to sign up for a membership please visit http://www.LGBTQutie.com.
About LGBTQutie.com
LGBTQutie.com, a division of Beebop Enterprises Inc., is a new dating and social networking website built to provide a sense of community for LGBTQ individuals. The site will provide a comfortable online environment for members who are looking for romantic relationships or friendships with like-minded individuals.